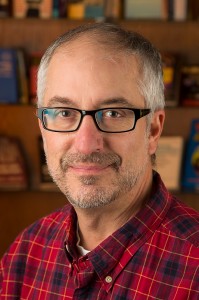 608-263-7669
schwoch@wisc.edu

Robert Schwoch brings more than 30 years of experience in reporting, editing and political communication to his dual roles as lecturer and undergraduate advisor in the School of Journalism & Mass Communication. His appointment in the J-School complements his continuing career as a writer and communication consultant.
A graduate of the J-School, Robert began his journalism career as a reporter in the 1980s, covering "anything no one else wanted" in the sports department at The Milwaukee Journal. He later spent nine years as a communication assistant, policy analyst and chief of legislative staff in the Wisconsin State Legislature, becoming one of a small handful of people – perhaps the only person – to have headed both Democratic and Republican legislative staffs at the State Capitol. After leaving the Legislature, he served as Director of Public Affairs at the AIDS Resource Center of Wisconsin, where he oversaw public communication and was the state's sole registered lobbyist for HIV/AIDS issues before starting his own consulting business specializing in political and advocacy communication.
Robert is the J-School's primary academic and career advisor for undergraduates. In the classroom he teaches courses in media relations, communication strategy and campaigns. He serves on the J-School faculty's undergraduate curriculum, scholarship and admission committees. Outside the J-School, Robert enjoys opera, sports and other dramatic pursuits. He is creator and co-author of I Wish I Was A Geordie (www.newcastleunited.us), a popular blog devoted to the English soccer club Newcastle United. Robert and his partner Hal are part-time Madisonians but make their main residence in Milwaukee.