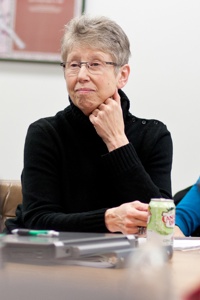 608-263-3389
dunwoody@wisc.edu
www.journalism.wisc.edu/dsc/

Sharon Dunwoody is Evjue-Bascom Professor in the School of Journalism and Mass Communication at the University of Wisconsin-Madison. Among other affiliations, she is a member of the Governance Faculty of the University's Gaylord Nelson Institute for Environmental Studies and is a faculty affiliate of the Science and Technology Studies program. As a scholar, she focuses on the construction of media science messages and on how those messages are employed by individuals for various cognitive and behavioral purposes.
Illustrative of this large domain are her current research streams, which ask: (1) How do individuals use information to inform their judgments about environmental risks? (2) What role do perceptions of both journalists and scientists play in the construction of news about science? Her focus on science communication is also reflected in her teaching, which includes SJMC 415: Science and Environmental Journalism, SJMC 860: Science and Environmental Communication, and SJMC 880: Informal Science Education for Scientists: A Practicum.
In addition to numerous articles and book chapters, she has co-edited two volumes, Communicating Uncertainty (Erlbaum, 1999) and Scientists and Journalists (Free Press, 1986), and authored a third book, Reconstructing Science for Public Consumption (Deakin University Press, 1993). In recognition of this work, Dunwoody has served as a Fulbright Distinguished Lecturer in Brazil, as a visiting journalism fellow at Deakin University in Australia, and as Donnier Guest Professor at Stockholm University. Most recently, she received the Paul J. Deutschmann Award in recognition of her research career.
She is a Fellow of the American Association for the Advancement of Science, the Midwest Association for Public Opinion Research, and the Society for Risk Analysis. She is former head of the section on General Interest in Science and Technology of the American Association for the Advancement of Science and former president of both the Midwest Association for Public Opinion Research and the Association for Education in Journalism and Mass Communication.
A former science writer, she earned the BA in journalism at Indiana University in 1969, the MA in mass communication from Temple University in 1975, and the Ph.D. in mass communication from Indiana University in 1978. Before joining the UW-Madison faculty in 1981, she was on the faculty of the Ohio State University School of Journalism.