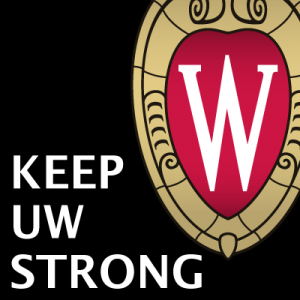 As the University of Wisconsin System faces the threat of unprecedented cuts, we want to keep our students, parents, alumni, donors and employers aware of developments and their implications. Earning distinction in 2014 as the top-ranked university in the world for communication and media studies, UW-Madison is a worldwide leader in undergraduate and graduate training, research and public service. While we are willing to do our part to help aid the state's budget crisis, the current proposed cuts are simply too large for both our university and our department to absorb. We are deeply concerned about the impact.
Top among these concerns are:
Lowering the quality of undergraduate education. Cuts to UW-Madison could amount to $86 million, and the J-School would certainly take a hit. We cannot predict with certainty but possible outcomes include layoffs, hiring freezes, reduction in student support, and suspended funding for capstone experiences such as Curb magazine, strategic communication campaigns or the Badger Report.
Increasing the cost of high-quality undergraduate education. One of the great J-School success stories has been our zealous pursuit of an average graduation rate hovering at four years. Students are able to graduate on time because we provide them sufficient access to classes even while increasing the number of students we admit. Sweeping cuts to UW-Madison will change this, especially in high-interest majors like journalism and strategic communication. We believe time-to-degree will increase by a semester even with our best efforts to contain it. Possible layoffs or hiring freezes could reduce the number of seats in courses. We also may be faced with cutting the number of students we admit. Students and families will take a significant financial hit as a result of adding a semester – $5,200 for in-state students and $13,300 for out-of-state. This is of grave concern to the entire faculty.
Damaging the graduate program. Often cited among the strongest master's and doctoral programs in the world, our graduate program is part of SJMC's soul. We have produced some of the leading communication researchers both in the U.S. and abroad. The graduate program also plays a central role in undergraduate research and professional training, as top-ranked graduate students also work as teaching assistants.
Weakening our faculty. UW-Madison is revered in higher education, especially because of our shared commitment to the Wisconsin Idea. The J-School faculty are known for curriculum innovation, research productivity and groundbreaking contributions to understanding the role of communication in society. Retaining our excellent faculty allows us to continue to capture the largest share of UW funding — research dollars — while keeping outstanding scholars in the classroom. We successfully recruit and retain the top faculty in the country. The current crisis will, without question, damage our ability to continue that.
Moving toward mediocrity. Journalism at Wisconsin is celebrating its 110th birthday this year. Founder Willard Bleyer believed in the power of human communication and established Madison as a center for teaching, research and service to understand and harness that power. Our ability to carry on that legacy is threatened by these cuts. We face a very real danger that UW-Madison will lose its standing as the premier place for the teaching of and scholarly inquiry into journalism and strategic communication, thus diminishing the value of a UW degree. Our Prof. Jim Baughman summed the situation perfectly for the Wisconsin State Journal.
It's Not Over
We are not in the business of fear-mongering. The items above summarize what we see as genuine threats to our students, our program and our contribution to the Wisconsin Idea and society. But the cuts are not a certainty. We in the J-School have a reputation for a culture of hard work (just ask our students). We're asking you to work hard now. Please consider putting your voice and energy behind preserving UW-Madison's excellence and SJMC's role as a communication leader.
Some steps you can take:
Contact the governor and legislators. The Wisconsin Alumni Association maintains current contact information. If you live in Wisconsin, the best routes are your area's Assembly and Senate representatives, plus caucus leadership and the Joint Finance Committee. But even if you live outside the state, it's critical to make your voice heard. Don't stop at an email. Calls resonate loudly.
Share your SJMC story. Where are you now and how is your UW-Madison degree a part of that? What concerns you about the budget proposals? Post to our Facebook page, tweet with #KeepWIstrong and #SJMCgaveme, or email SJMC Director Hemant Shah.
Share your concerns. Please let people in your life — friends, family, neighbors, employers — know if you are worried about damage to UW-Madison. Not everyone understands or appreciates the Wisconsin Idea and UW-Madison's impact. Now is the time to show why we have the reputation we do and why it's worth protecting.
No matter how hard you work, we'll be working hard alongside you. We will advocate to reduce these cuts. We will reassure our students that their interests are paramount. We will continue to provide top-rate educational experiences that combine the best knowledge of communication with the most leading-edge professional practices. And when the final numbers do come in, we will fight hard to capture every resource possible for our program.
We think Willard Bleyer would be proud, and we hope you are too.
On, Wisconsin!
The Faculty and Staff of the School of Journalism and Mass Communication
Learn more
UW-Madison Chancellor Rebecca Blank's statement on the cuts to the Board of Regents
Budget information from UW-Madison
Advocacy information from the Wisconsin Alumni Association
"Don't Turn UW into Just Another University," op-ed by Prof. Jim Baughman
Op-ed by graduate student Michael Mirer on the impact of cuts on his research and education.