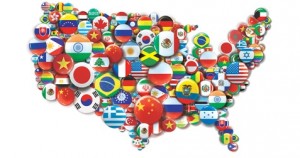 J162: Mass Media in Multicultural America
Online only May 30-August 27 ~ 3 credits
(full course description below)

J175: Media Fluency in the Digital Age
Online only May 30-June 25 ~ 3 credits
(full course description below)

J445: Developing Creative Messages for Media
On campus May 30-June 25 ~ 4 credits
(full course description below)

J162: Mass Media in Multicultural America
In this course, we will consider the cultural history and experiences of racial and ethnic minorities and explore the way these groups are portrayed in mainstream mass media. We will focus primarily on three mass media channels: print, television and film; and on two communication forms: news and entertainment. We will learn about the differences and similarities between the terms "race" and "ethnicity;" the central roles and functions of mass media in multicultural societies; the different ways in which mass media create and perpetuate stereotypes of racial and ethnic minorities and majorities, how these images circulate in mass mediated culture and what impact they may have on individuals and societies; and the factors that lead to changes in the ways racial and ethnic minorities and majorities are depicted in mass media. We will explore these and other related issues through a number of learning activities such as quizzes, writing assignments, group discussion and self-reflection. Contact Professor Hemant Shah (hgshah@wisc.edu) for more information. This course is 100% online, largely self-paced, and satisfies the ethnic studies requirement.
J175: Media Fluency in the Digital Age
Digital media is very much a part of our day-to-day lives. For some of us, it's hard to remember there not being a computer or a cell phone somewhere around us, whether at home or school. It's not just a question of what we do online and in the digital world, but how and why. What makes up the ecosystem of media, content, infrastructure and devices? When we are creative online, who benefits? (It's not necessarily us.) And what does it mean when these interactions we have seep into the world around us—not only on computers, mobile phones and smart phones, but into the social, political and economic worlds around us?
The media landscape has changed vastly over the last 20 years, and it has major ramifications for all of us as both producers and consumers of digital media. Through this course, students will not only examine – they will engage with – this media landscape.  Students will critically analyze how digital media is made and 'used' today, and understand how this affects them. The topics covered in this course are unfolding now, yet they have deep roots and histories that will be investigated in this class. We will use a number of sources as we do so. Some of the readings for this class will be scholarly. Others will come from popular media sources. Others, still, will come from blogs or Tumblr, or won't be readings at all: they will be audio or visual. Contact Deb Pierce (dlpierce@wisc.edu) for more information. This course is 100% online and fulfills a core requirement for the Digital Studies Certificate.
J445: Developing Creative Messages for Media
This course serves as an introduction to the creative aspects of message development for advertising, public relations and other strategic communication. Course focuses on:
basics of "concepting"—the strategic thinking that underlies developing creative messages
creative writing techniques and general development of writing ability
visualization methods and their application to message creation
integration of copy and visual elements into fully realized creative messages
application of class concepts in manual and computer-assisted message design
This course meets on campus, counts towards the Digital Studies Certificate, and is open to non-majors by consent of the instructor, Professor Doug McLeod (dmmcleod@wisc.edu).