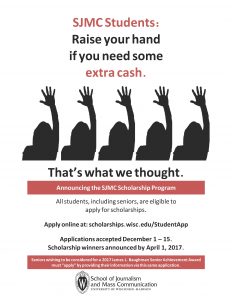 The School of Journalism and Mass Communications is pleased to announce our 2016–17 undergraduate scholarships!
SJMC has one of the most generous scholarship programs on campus, making your application very worthwhile. Last year we gave out more than 90 scholarships, ranging from $500 to $10,000. All SJMC students are eligible—including seniors.
In related news, the Senior Achievement Award has been renamed the James L. Baughman Senior Achievement Award, in honor of SJMC's former professor who inspired his students to work hard and excel. Seniors wishing to be considered for the 2017 James L. Baughman Senior Achievement Award must "apply" by providing their information via the same application.
Students may apply from Thursday, December 1 through Thursday, December 15. Recipients will be announced by April 1, 2017.
The application requires a brief statement regarding your career goals and your reasons for choosing those goals, along with descriptions of any extracurricular activities, community service or professional experiences.  As an upgrade to prior online scholarship applications, students may now work on the application over time; students can stop, save and return at a different time to finish the application.
The online scholarship link will go live on December 01, 2016:  http://scholarships.wisc.edu/StudentApp