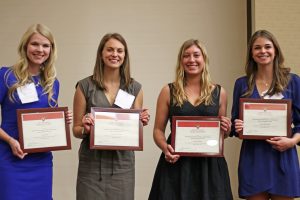 CELEBRATING ACHIEVEMENTS

The faculty and staff of the University of Wisconsin-Madison School of Journalism and Mass Communication proudly announce our student award winners, who will be honored at the 2017 Alumni Awards Banquet.
Reception at 6 p.m., with dinner following at 7 p.m.
Friday, March 31, 2017
Gordon Dining and Event Center
Symphony Meeting Room | 770 W. Dayton Street | Madison, WI 53706
Announcing the Student Award Winners
For 2017, the Senior Achievement Award has been renamed the James L. Baughman Senior Achievement Award, in honor of the late professor. Two additional types of student awards have been added for this year: the Teaching Excellence Award and the Leadership Award.
James L. Baughman Senior Achievement Award
For outstanding academic, professional, and community service
Keegan Hasbrook
Melissa Behling
Louisa Lincoln
Megan Gasper
Sandra Kinzer
Teaching Excellence Award
In recognition of outstanding and inspirational teaching performance
Caitlin Cieslik-Miskimen
Meredith Metzler
Jinha Kim
Yini Zhang
Josephine Lukito
Leadership Award
In recognition of outstanding service as a leader and organizer of the Communication Crossroads Conference 2017
Zhen Di
Soo Yun Kim
Yin Wu
Ceri Hughes
Shreenita Ghosh
Josephine Lukito
For more details about the banquet and the SJMC alumni who have received awards, click here.