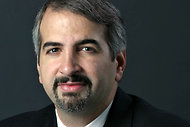 With great shock and sadness, our School learned tonight that our friend and alumnus Anthony Shadid has died while on assignment for the New York Times in Syria, according to reports tonight:
Anthony Shadid, a prize-winning newspaper correspondent whose graceful dispatches for both The New York Times and The Washington Post covered nearly two decades of Middle East conflict and turmoil, died, apparently of an asthma attack, on Thursday while on a reporting assignment in eastern Syria.
Calling Shadid a "prize-winning newspaper correspondent" is a grand understatement. He won the Pulitzer Prize, not once but twice, and was nominated again for the prize this year (along with his fellow reporting team) for his journalistic excellence during the "Arab Spring" democracy movement. (Those of you who weren't familiar with him may read more about his life and his work here.)
Just a little over a year ago, Shadid was here in Madison giving a day's worth of talks and visits with the students, staff, and faculty of our University — as well as local reporters and media activists — as the keynote speaker of our December 2010 Ethics Lecture. (You can download a transcript of his lecture here.) He gave freely and generously of his time and his talent whenever he was back in Wisconsin.
Anthony Shadid died in the midst of performing his life's work as a journalist of the highest quality and integrity — thoughtful, serious, important work that I know we are all so very proud of, and so very thankful for.  We will miss him terribly.
Our thoughts are with Anthony's family at this difficult time.
P.S. UW-Madison News has posted an article on Shadid's legacy. Many alumni and friends have already come together to set up a memorial fund with the University of Wisconsin Foundation "to ensure that his life and legacy lives on at UW-Madison"; the use of the funds will be determined by Shadid's family. And we would welcome your own memories of Anthony at our collaborative weblog, under the entry Remembering Anthony Shadid.