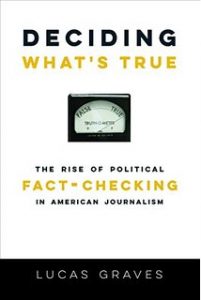 Fact-checking has flourished since 2007, when new projects like the Tampa Bay Times' PolitiFact launched to fact-check American politics. In the years since, more news organizations have put attention and resources toward fact-checking, so that it's now an established part of political campaign coverage.
Lucas Graves, a professor at the University of Wisconsin, has been studying the fact-checking movement throughout this time period. His new book, Deciding What's True: The Rise of Political Fact-Checking in American Journalism, explores the recent growth of fact-checking and why it resonates with both journalists and the public.
Find the full story at Politifact.