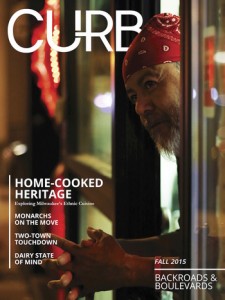 Members of Curb magazine were honored at the Milwaukee Press Club Gridiron Awards Friday night, continuing Curb's tradition of producing award-winning work and journalists.
Members of Curb took home three gold awards and two silver awards from the Milwaukee Press Club, including Best Use of Multi-Media and Best Website Design. Devin Lowe won Best Long Feature Story for her story "Displaced, Dispossessed But Determined" and Abbey Schneider took silver in the same category for her work "As Good as Gold." Nick Brazzoni's story "Two Towns, One Team" was awarded silver for Best Sports Story.
Curb Magazine is a lifestyle magazine produced by 21 dedicated and talented undergraduate and graduate students at the UW–Madison School of Journalism. Throughout the fall semester, the Curb staff devotes countless hours to developing a product that meets professional standards. The publication is issued once a year, with an annual launch in December.
This year, stories highlight contemporary perspectives on Wisconsin traditions. Among its many topics, the magazine explores supper clubs, the state's tradition of producing Peace Corps volunteers and an urban cheese factory.
"Storm's-a-Brewin,'" written and produced by Brazzoni, Irene Burski and Becca Radix, explored challenges faced by the Wisconsin brewing industry. The multi-media experience, which features text, photos, videos and sound, was awarded the highest honor by the Milwaukee Press Club.
"These students are deeply passionate about both journalism and Wisconsin, and Curb provided an opportunity for these passions to intersect," says instructor Stacy Forster. "Although the experience is challenging at times, these students had a unique opportunity to explore what mattered to them, and I think that's in part why Curb students so consistently produce award-winning work."
In April several of members of Curb were awarded regional Mark of Excellence Awards from the Society of Professional Journalists. The publication swept the Non-Fiction Magazine Article category, with Schneider winning and Lowe and Annaleigh Wetzel placing as finalists. Tommy Yonash received an award for best Feature Photography. Wetzel, Claire Raddatz, Sean Barron, Silke Schmidt and Bryan Kristensen won the award for Best Affiliated Website.
The magazine has a legacy of success, having received numerous awards through the years. In 2012 and 2014, Curb was named the best student magazine in the country by the Society of Professional Journalists.
— Tyler Dedrick