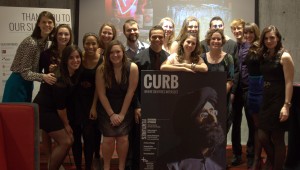 By Melissa Grau (JBA, '13)
Among other accolades earned this spring, the students who produced Curb magazine 2012 were recognized by the Society of Professional Journalists (SPJ) as the best student magazine in the nation. According to SPJ, judges chose "outstanding work worthy of national honor" from more than 4,600 entries, including magazines.
"I'm insanely proud of them and grateful for the experience of working with such talented and committed students," said Curb Publisher and Asst. Prof. Katy Culver. "Winning first place in an intense competition among 12 regions across the country is truly impressive."
Curb, an annual magazine produced by students in a sought-after capstone class each fall, celebrated its 10th Anniversary earlier this academic year. The 2012 issue's editorial philosophy, "Where Identities Intersect," inspired students to cover topics ranging from welfare and food deserts to theater and pub culture.
In addition to gaining national recognition for the 2012 issue, Curb won a slew of regional awards for its long form articles and digital media.
The Milwaukee Press Club honored Curb with three awards for excellence in journalism in May.  Challenging the welfare mother stereotype with a cutting but compassionate story, lead writer Emily Genco won an award for Best Single Feature Story Over 30" for her article "Rising Above: One mother's journey to transcend poverty." Managing Editor Melissa Grau won an award in the same category for "Solidarity Sister: 86-year-old nun champions change in health care." This profile addresses how feminism and faith collide within one incredible woman.
Curb Online, featuring extended and multimedia stories, also received recognition with an award from Milwaukee Press Club for Best Website Design.  Additionally, the website won third place for Best Affiliated Web Site (Large) from SPJ Region 6 Mark of Excellence.
Three Curb writers also won awards at the regional level from SPJ for Best Non-Fiction Magazine Article, sweeping the category.  Genco won first place with her "Rising Above" story, while lead writer Alison Dirr took second place with Curb's striking cover story, "Renewing Optimism: After a tragic shooting, Sikh community reaches out." Translated online into Panjabi/Gurmukhi, Dirr's story received international attention. Fellow lead writer Heather Laing won third place for her investigative "Slaying Shakespeare: Prison arts program ends despite enriching lives."
Both Laing and Grau received Senior Achievement Awards from the UW-Madison School of Journalism and Mass Communication, in part because of their work with Curb's editorial team.
UW-Madison's 4th Annual Digital Salon also chose to display Curb's iPad app this spring, showcasing how Curb used new technology to revolutionize its storytelling.
Reinforcing its relevance and maintaining a reputation of excellence, Curb 2012 "Where Identities Intersect," enters its second decade after an exceptionally award-winning year.