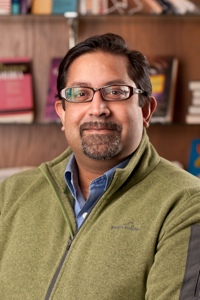 Professor Dhavan Shah was awarded a total of $2.4 million in grant funding to support research on digital media and health through projects with two teams of researchers, one in the Department of Medicine and the other in the Department of Radiology.
Working with Assistant Professor Ryan Westergaard of Infectious Diseases (Department of Medicine), Dhavan Shah and David Gustafson (Center for Health Enhancement Systems Studies) were awarded a 5-year grant from the National Institute of Drug Abuse (NIDA) to study the effects of online social support among people living with HIV who have substance use disorders. Focused on maintaining HIV meds through reduction in social isolation and disruptive events like incarceration or eviction, the grant will provide $2,250,000, with $300,000 per year in direct costs.
In addition to this, Shah extended a previous project with Professor Beth Burnside of Breast Imaging (Department of Radiology). Their work centers on building a shared decision-making tool to inform the clinical encounter when women face choices about screening mammography.  Mammography for women ages 40-49 remains controversial, with risks associated with overly frequent mammography sometimes outweighing benefits. The appropriate balance of benefits (e.g. advanced-stage cancer avoided) and harms (e.g. unneeded, potentially harmful tests) should inform shared decision making between patient and physician. The 18-month grant provides $150,000 in support from UW Institute for Clinical and Translational Research (UW ICTR). 
Shah is Maier-Bascom Professor in the School of Journalism and Mass Communication, with joint appointments in the Departments of Industrial and Systems Engineering, Marketing, and Political Science.  He is Director of the Mass Communication Research Center (MCRC) and Scientific Director within the Center for Health Enhancement Systems Studies (CHESS).