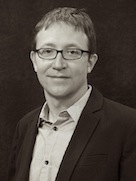 "Deciding What's True:
Fact-Checking as Objective Practice"
Wednesday, November 7, 2012
1:30-2:30 pm
SLIS Commons, 4207 Helen C. White Hall
2012 has been called the "year of the fact-checker." This talk draws on Professor
Graves' research with the fact-checking organizations that have emerged in the
United States over the last decade, groups which use trained staff and dedicated
resources to assess the truth of public claims. It examines a set of
emergent practices and an accompanying journalistic discourse, which have
coalesced into a reform movement reaching to the center of the elite news media.
Pointing to antecedents in partisan press, it explores fact-checking as a critique—
albeit a sharply constrained one—of traditional objective news practice.
The Brownbag Series is presented by the Digital Studies Certificate Program.