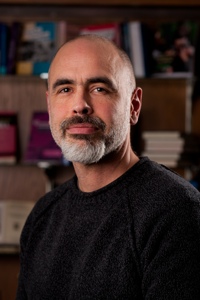 Greg Downey, now is in his second three-year term as director of the School of Journalism and Mass Communication, has just been awarded an endowed chair and, henceforth, can claim the title Evjue-Bascom Professor.
A faculty member at UW-Madison since 2001, Prof. Downey has not only provided yeoperson's service to the school and the university but also distinguished himself as a researcher and as a teacher.  While all of those categories are important to the conferral of an honor such as this, the Evjue-Bascom chair puts particular emphasis on teaching excellence, a category near and dear to Prof. Downey's heart.  In 2007, he was recognized with a university teaching award, and he currently serves as faculty director of INTER-LS 260 Internship in the Liberal Arts & Sciences project.  For many years, he taught the School's Introduction to Mass Communication, which typically enrolls between 300 and 400 students.
The chair brings with it an annual stipend to be used to enhance the holder's professional, teaching and scholarly activities.