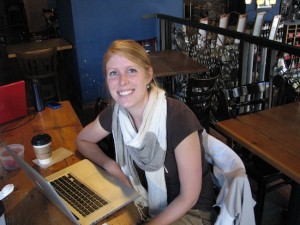 Originally published by Wisconsin State Journal 2/22/2013. Written by Doug Moe.
It's a long way from a village in Kyrgyzstan with no running water to a table in the Memorial Union's Rathskeller on the UW-Madison campus.
But our story today connects them, through Erin Luhmann, a UW-Madison graduate student of journalism from Minnesota.
It also involves Africa and a two-time winner of the Pulitzer Prize, but that's jumping ahead. First, Kyrgyzstan.
Luhmann spent two years in Kyrgyzstan — 2008 to 2010 — while serving in the Peace Corps. She learned of her posting while home in Minnesota with her family. There was a letter from the Peace Corps. Kyrgyzstan. She immediately thought, "That's a lot of consonants in one name."
Erin and her mom spread out a map in the kitchen and found Kyrgyzstan, west of China, in Central Asia. She would be teaching English to high school students. It proved a great adventure. Among other things, it made her realize she didn't want to be a teacher.
Instead, back home, Luhmann enrolled at UW-Madison. She will get her master's in journalism in the spring.
Two weeks ago today — the afternoon of Feb. 8 — Luhmann was working on an assignment in the Rathskeller when she got an email from the woman who serves as assistant to Nicholas Kristof, the decorated, globe-trotting columnist for the New York Times.
A month earlier, Luhmann submitted an entry to Kristof's annual win-a-trip contest. Yearly since 2006, a student has been invited to travel with Kristof to a distant locale and help him report on the problems of poverty, health and social justice that are his bailiwick.
The trip is highly coveted among journalism students. The summer 2007 trip to the Congo was filmed, and the resulting documentary, produced by Ben Affleck, played at the Sundance festival.
This year, some 700 students applied for the trip. The Feb. 8 note from Kristof's assistant was letting Luhmann know she was a finalist. The assistant would be in touch soon for a phone interview.
Luhmann experienced the first of a series of "adrenaline rushes" that continued through the weekend. She hardly let herself dream that actually winning the contest was a possibility.
Yet Luhmann, at 27, seems to possess a spirit — and resume, too — blueprinted for just such a journalism odyssey. Her grades are exemplary. She has traveled extensively and has a passion for shining a light where before there were shadows.
It did take a while for Luhmann to find her calling. Growing up in Shakopee, Minn., she played high school basketball and thought she might go into physical therapy.
She chose a small Minnesota college — Gustavus Adolphus — and played basketball there for a couple of years. Encouraged by a high school teacher, Luhmann majored in English and soon found herself considering journalism. It suited her restless streak. Most days, there was something new. If you didn't know something, you asked. While in college, she interned for a Minnesota-based humanitarian magazine NEED.
Luhmann long considered the Peace Corps after graduating. She had traveled to China with her family, and to Thailand and Ukraine on study-abroad projects.
She lived with a host family while teaching at a rural school in Kyrgyzstan. There was a beautiful salt water lake nearby, and beyond it, mountains.
"I enjoyed it," she told me this week, although she was frustrated by classroom management problems and the fact that humor — her coping mechanism — didn't always translate well across borders.
It seemed likely the Peace Corps experience loomed large in Luhmann's getting the Feb. 8 note from Kristof's assistant saying she was a finalist. They spoke for 30 minutes by phone two days later. Erin had sent an essay detailing her experience and goals, along with a video of testimonials including two members of her host family in Kyrgyzstan. The assistant told her she was one of four finalists.
A day later, Luhmann interviewed by phone with Kristof himself, and the next day he called to tell her she won the contest. After offering congratulations, he talked logistics. The trip will happen this summer or early fall. Africa is the likely destination. Luhmann will blog for The New York Times and do videos.
Erin learned one other thing from their talk: Not even Nicholas Kristof has been to Kyrgyzstan.