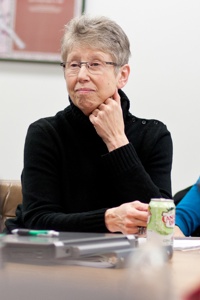 By Jacob Sattler (JBA x '14)
Prof. Sharon Dunwoody received the prestigious 2013 Hilldale Award from UW-Madison in April.
Dunwoody has been an SJMC faculty member since 1981.  She teaches science communication courses at both the undergraduate and graduate levels and conducts research on a variety of public understanding of science issues.  She served as director of the School from 1998 to 2003 and was Associate Dean for Social Studies in the Graduate School for a decade.
The Hilldale Awards, which have been given annually since 1987, honor professors in each of the four faculty divisions: Arts and Humanities, Biological Sciences, Physical Sciences, and Social Studies. The awards recognize distinguished contributions to teaching, research and service. The Hilldale Fund makes the awards possible.