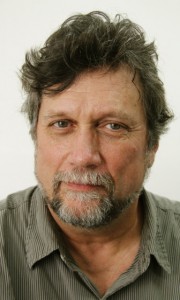 The Wisconsin Center for Investigative Journalism's Ron Seely has been selected as winner of the Sierra Club's 2014 national reporting award.
Seely, a reporter, editor and student mentor for the Center, will receive the David R. Brower Award for outstanding environmental coverage, the national Sierra Club announced this week. The award is named after the first executive director of the Sierra Club.
Ellen Davis, chairwoman of the honors and awards committee for the Sierra Club, said Seely was chosen for his high-quality reporting on environmental issues spanning more than two decades, including coverage of the environmental effects of large farming operations and the proposed Gogebic Taconite mine in northern Wisconsin.
"It was really for his entire career rather than a particular story," Davis said.
Previous winners include the late Charles Kuralt of CBS, Thomas Friedman of the New York Times and the late Molly Ivins, an independent journalist and syndicated columnist.
Seely joined the Center in 2013 after a 34-year career at the Wisconsin State Journal newspaper in Madison, where he focused on covering the environment and science. Seely's previous honors include a national Society of Environmental Journalists award for investigative reporting and the American Chemical Society's prestigious James T. Grady-James H. Stack Award, as well as numerous state and local awards. Seely's reporting was praised in a proclamation by the Legislature when he retired from the State Journal.
"I think it is especially encouraging that a national award like this is going to a reporter working in a regional Midwestern market where environmental issues such as industrial farming and drinking water quality are so important to people," Seely said. "And those are topics, I'm proud to point out, that are right at the top of the list for coverage by the Wisconsin Center for Investigative Journalism."
The Center's executive director, Andy Hall, said the latest recognition of Seely's work comes as Seely is beginning a major role in The Confluence, a live news experiment with University of Wisconsin-Madison School of Journalism and Mass Communication classes that will investigate water quality and supply issues as part of the Center's Water Watch Wisconsin project.
"Ron has had a remarkable career," Hall said. "But just watch. His finest work is heading our way, soon."
Seely will accept the award Nov. 21 in San Francisco.
Ron Seely's relationship with the J-School:
Seely teaches J335, Intermediate Reporting, for the school. Last semester, Seely's J335 class investigated homelessness in Madison. Seely also is coordinating the Wisconsin Center for Investigative Journalism's Confluence project with SJMC. It's a collaborative effort between the Center and journalism school in which students in several classes will investigate water quality and quantity issues.
Their stories will be made available for publication not only through the Center's www.wisconsinwatch.org, but also by Madison Commons and local news outlets.
Staff from the investigative center will provide instruction in investigative skills and work with students on stories about issues ranging from phosphorous pollution to carcinogens in public water supplies. The project is financed by a $35,000 grant from the Joyce Foundation as well as in-kind contributions from several SJMC faculty members.