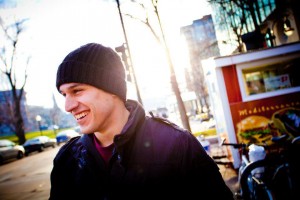 Pro-track master's student Mario Koran was named the first recipient of the Armando Montaño Scholarship, presented at the New York Times Summer Journalism Institute. Named for a young journalist who died while reporting for the Associated Press in Mexico City, the award honors a promising student journalist.
Below is Mario's reflection on earning this honor. You also can read his latest reporting in the Times, as well as Asst. Prof. Katy Culver's piece for PBS MediaShift on the effect of recent legislative action on students like him.
Hearty congratulations to Mario!
By Mario Koran, MA 2013
Being a successful reporter is about skill and talent, but it's also about luck. And I've had some of that. I've met talented and generous people who've opened doors and helped me to produce stories on which I've been proud to hang my byline.
Still, I've missed opportunities. Like never meeting Armando Montaño.
"Mando" was a promising young journalist who died tragically at the age of 22. By all accounts, he was on his way to the top, burning with determination and passion.
Some of Montaño's accomplishments include covering the Iowa presidential caucuses as a news intern for The New York Times, and eventually landing an internship — his "dream job," he said — with the Associated Press in Mexico City.
In one of Montaño's last stories, published June 26, 2012, he interviewed witnesses of a shootout among federal police at the Mexico City airport. His body was discovered several days later, crushed in an elevator shaft near an apartment where he was living. The circumstances remain uncertain, but his mother says there is no apparent link between his work and his death.
Richard Berke, assistant managing editor at The New York Times, said Montaño "accomplished so much and touched so many in a short time, and his potential was truly limitless." In a short video, "Remembering Mando," a friend was unable to speak about him in the past tense. Montaño wasn't just a journalist, he was a journalist who was loved.
Like me, Montaño attended The New York Times Student Journalism Institute, an annual two-week training program that allows two dozen student journalists from around the nation to work with professional journalists.
Here, I met other young journalists who were as desperate as I am to tell an important story using just the right words. I sat down with seasoned Times editors who howled in enthusiasm over facts I discovered while on a reporting assignment in a small, desert town, where part of the job of being a sheriff is to collect the bodies of migrants who don't survive their journeys to work.
For me, the highlight of the experience was meeting Montaño's parents, Mario Montaño and Diane Alters. At the institute's end-of-ceremonies banquet, they presented me with a scholarship in memory of their son's talent, creativity and determination to inform and improve communities.
I consider it the finest moment of my young career. I broke one self-imposed rule, to not be sentimental. I sobbed without shame as I tried to thank Mando's parents and my peers around me.
As I hold the award, I consider the sacrifice that Mando made for the world around him. I think of the people who loved him, and the people whose lives he touched.
I hope I can tell some of the stories he would have told.