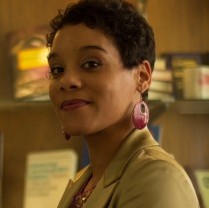 An innovative effort to reduce HIV infection in Milwaukee led by Asst. Prof. Shawnika Hull has been selected for an Ira and Ineva Reilly Baldwin Wisconsin Idea Endowment grant.
Acceptance Journeys: A social marketing campaign to reduce HIV in Milwaukee is a collaborative effort to reduce disproportionately high rates of HIV/AIDS among Black men who have sex with men in Milwaukee County. The effort is a partnership including Diverse and Resilient, a community-based organization; Wisconsin AIDS/HIV Program; UW-Madison School of Journalism and Mass Communication; UW-Madison Population Health Institute; and the Centers for Disease Control and Prevention.
The Baldwin grants support work that furthers the Wisconsin Idea, that the university doesn't stop at campus borders. Instead, the research conducted and the knowledge gained within the university should directly benefit the people of the state, nation and world. Hull's grant of nearly $120,000 will enable a three-year project in Milwaukee.
"We take great pride in our affiliation with the UW-Madison – a place where priority is placed on using the knowledge gained in the university to bring real change to local communities," Hull said. "We are absolutely delighted to have been awarded this funding, which is critical to the success of our program and reaffirms our mission."
Homophobia is a known driver of disparities in HIV rates, as it creates a social environment in which young gay men experience heightened risk. Acceptance Journeys is a social marketing campaign that aims to reduce homophobia by changing the social environment in which young gay men find themselves. Acceptance Journeys incorporates both mass-mediated and interpersonal communication channels.
Messaging provided through story cards, radio spots, community outreach and secondary coverage explicitly describes homophobia, provides specific examples of the impact of homophobia on LGBT people and their loved ones and offers exemplars who describe their own pathway to acceptance. Story cards are approximately 5" x 5" stock cards with high-quality images of an LGBT person featured in the story and their loved ones. The loved ones' Acceptance Journey is printed on the reverse. Mass-mediated messages such as backlit displays and bus wrap ads are more subtle, providing images and taglines highlighting love and acceptance of LGBT people.
Biannual focus group sessions are scheduled to guide message construction and gauge community reactions to new messaging. An annual four-city survey evaluation is also underway. This cyclical strategy is designed to avoid backlash from the community by allowing for increasingly explicit messaging that respects community readiness for change, minimizing message fatigue among the target audience and facilitating evaluation.