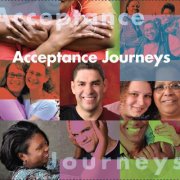 COLLABORATIVE RESEARCH TEAM RECEIVES $514,000 GRANT TO REDUCE ANTI-GAY STIGMA IN MILWAUKEE
MADISON – A four year, $514,000 grant has been awarded to a collaborative research program involving the School of Journalism and Mass Communication at the University of Wisconsin-Madison, Diverse & Resilient, a nonprofit organization devoted to the healthy development of LGBT people in Wisconsin, The Department of Health Services AIDS/HIV Program Wisconsin and The Medical College of Milwaukee.
The purpose of the grant is to support the continued development and dissemination of a public communication campaign, called Acceptance Journeys, designed to influence attitudes and beliefs about LGBT people as a means to reduce anti-gay stigma.
This project is in response to a recent 125% increase in HIV diagnoses in young African American men who have sex with men in Milwaukee County and is designed to influence the social environment in which young LGBT people live as a means to reduce the HIV related risk to which they are exposed. Anti-gay stigma is associated with myriad of consequences, such as housing instability, HIV stigma, lack of adequate sex education and internalized stigma, which may in turn lead to heightened HIV risk.
The project utilizes focus group and in-depth interview methods to construct and test mass mediated messages to reduce anti-gay stigma in the African American community in Milwaukee. The grant funding will support ongoing message design research and a 3 wave, cross sectional survey in Milwaukee, St. Louis and Cleveland (for comparison purposes) to monitor public opinion and evaluate the success of campaign messages. Acceptance Journeys was launched at Milwaukee City Hall on October 11, 2011 with the support of Milwaukee Mayor Tom Barrett and Commissioner of Health Bevan Baker.
The campaign features photographs and images of LGBT people and their friends and families. Acceptance Journeys offers narratives of LGBT friends and family describing their pathways to acceptance, including trials and triumphs. Messages are currently featured through radio spots, billboards, bus wraps, backlit displays in Milwaukee Airport and in card packs distributed to numerous church and United Way sponsored agencies for training purposes.