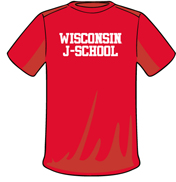 Want to show your SJMC pride? Go online now to order t-shirts and hoodies celebrating our Wisconsin J-School.
Students in the class that produces Curb magazine are selling the shirts to raise money to publish this year's edition. A lifestyle magazine for curious Wisconsinites, Curb promises to be "anything but expected."
Long- and short-sleeved t-shirts, as well as hoodies, are available for purchase. Pickup will be in Vilas the second week of November. Shipping is possible with a small additional fee.
Visit https://ugpogo.undergroundshirts.com/groupIndex.php?cart_id=681 to order.