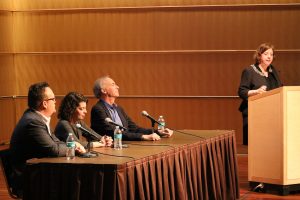 Following an election season that had the public questioning truth and verification in the media, 170 people attended the UW-Madison Center for Journalism Ethics panel of journalists and experts at the Overture Center on Thursday, December 8th.
The panel discussed the role of political journalism in presidential elections and the relationship between news media and the electorate. The panel featured Molly Ball, a staff writer for The Atlantic, Craig Gilbert, the Washington Bureau Chief for the Milwaukee Journal Sentinel, and Michael Wagner, an associate professor at the UW-Madison School of Journalism and Mass Communication.
Katy Culver, the director of the Center for Journalism Ethics, served as the moderator for the discussion and posed questions that asked the panel questions about the strained relationship between truth and journalism.
"What do you see as journalism's ethical obligations in a time of division, in a time of partisanship?" Culver asked. "What do we need to be doing and how do we do it better? What is your bet for journalism's future?"
Following a general election where few pollsters, pundits or journalists accurately predicted the result, public distrust of the media is at an all-time high, panelists said. Yet they urged journalists and those studying journalism to strive towards communicating and understanding those with differing points of view. Despite the current political situation being the most divided, the panelists said this was the time to hear what those with different opinions have to say.
"I think the more that journalists and scholars—people of good cheer—commune together and talk, the better chance we have at understanding where people are coming from," Wagner said. "Which makes it a lot easier to find common ground [. . .] There are lots of areas where people might agree, or might agree to compromise, but it's not going to happen if we're unwilling to hear what the other side has to say without the intense burning desire for our turn to talk so we can tell them they're wrong and we're right."
Gilbert stressed that the public would be able to find bias in the media, but they should distinguish the difference between news sources. He said that a person should judge media based off what they are reading in the news, not the opinion pieces and polls published. With the notion of seeking truth, the panelists said readers have a responsibility in understanding the distinction between journalists, reporters and the editorial part of a media organization.
More than 170 people attended the event to listen to what the public's perception of the media would be moving forward with Donald Trump's election. Ball stated that journalism would continue to play a role in society that serves its readers, which is to find the truth without favoring a side.
For more information about the Center for Journalism Ethics, please visit their website.