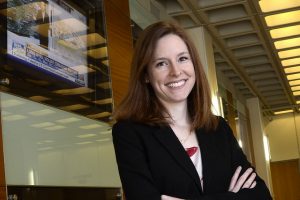 IVAN L. PRESTON RESEARCH COLLOQUIUM
"Partisanship and the Search for Engaging News"
Thursday, March 30, 2017, 4:00 PM
Vilas 5055 (Ralph O. Nafziger Conference Room)
821 University Avenue, Madison, WI
This event is free and open to the public.
Parking is available in lots 7, 46, and 83.
Motivated reasoning proposes that partisanship serves as a powerful motivator when selecting and interpreting information. People tend to select likeminded messages and subject counter-attitudinal information to greater scrutiny than information agreeing with their beliefs. These same patterns influence how people behave with respect to news. Over the past decade, news organizations have placed increasing importance on engaging audiences, or encouraging active involvement with the news brand, as a way to increase revenue. But herein lies the dilemma: partisanship can be good for business, but bad for the press's democratic mission. In this presentation, I will discuss my research showing that partisanship is an important component of how people engage with news. I also will describe strategies for curbing the influence of partisanship.
About Natalie (Talia) Jomini Stroud:
Natalie (Talia) Jomini Stroud is an Associate Professor of Communication Studies and Assistant Director of Research at the Annette Strauss Institute for Civic Life at the University of Texas at Austin. Stroud is the founding director of the Engaging News Project, which examines commercially viable and democratically beneficial ways of improving online news coverage. Stroud is interested in how the media affect our political behaviors and attitudes and how our political behaviors and attitudes affect our media use. Her research has received numerous national and international awards, including the International Communication Association's Outstanding Book Award for her book Niche News: The Politics of News Choice (Oxford University Press). Stroud also has twice received the Outstanding Faculty Member Award from the Communication Studies Graduate Community.
The Preston Colloquium is made possible through generous donations from alumni, friends and the family of Ivan L. Preston.