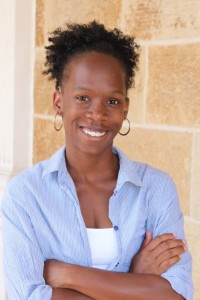 Davis has won the Exceptional Service Award which recognizes TAs who, in addition to their regular duties, perform exceptional service related to the educational mission of their department and the university. Davis is recognized for a number of initiatives.
She instigated a series of professional development workshops for graduate students on topics including: Navigating the Academic Job Market, Finding Funding for your Education, and Turning a Paper into a Presentation.
She was the driving force behind the renovation of the graduate lounge over the summer months. She organized students to clean, paint and replace furniture to create a more welcoming and comfortable workspace.
Beyond her contribution to the academic life in our department, Davis demonstrates a commitment to improving health and wellbeing in her hometown, Milwaukee, WI. Working with Professor Shawnika Hull, she is the project assistant on a mass mediated campaign focused on reducing HIV transmission among young gay men of color by increasing acceptance of LGBTQ people in African American communities, working with focus groups to design culturally appropriate media messages.
Davis will receive her award at a ceremony on February 26.