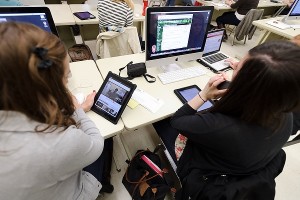 Katie Harbath (B.A.'03, Journalism and Political Science) knows digital strategy.
As Facebook's global politics and government outreach manager, she leads a team that works with politicians around the globe, training them to use the platform to engage with citizens. Before joining Facebook in 2011, Harbath shaped digital strategy for the National Republican Senatorial Committee, the DCI Group (a high-powered Washington, D.C., public relations firm) and the Republican National Committee.
That's a surprising career path when you consider Harbath was totally averse to digital media when she first entered the School of Journalism and Mass Communication (SJMC) at UW-Madison more than 10 years ago. She still recalls her frustration when her Journalism 202 instructor, Katy Culver, chose her as webmaster for the course's final project.
"She knew it was my calling before I did," Harbath says.
Harbath is just one of the many SJMC graduates using her education in the world of new media, from social media platforms to publications and companies that are telling their stories in digital and beyond. And that's not by accident. When the SJMC reimagined its curriculum in the late 1990s, the faculty wanted to prepare students for jobs that didn't yet exist in the ever-changing media world.
Culver, now an assistant professor, was brought in to help do just that. Hired in 1999 as a faculty associate, she developed a new version of Journalism 202: Mass Communication Practices, the course students take after they're admitted to the school. It's a broad course, designed to expose students to a wide range of media while providing them with a foundation of communication skills — how to craft concise, accurate writing, gather information, and identify and understand trends, for example — that apply across formats. They then continue to develop those skills as they take more specialized and advanced courses in reporting or strategic communication.
The idea behind the SJMC curriculum, Culver says, is that it's malleable enough to incorporate new media as they emerge, "because they're forms. They're not concepts, they're not particular skills — they're just media forms."
Alex Kowalsky (B.A.'13, Journalism and Political Science) knew he wanted to work in social media when he entered SJMC in 2011, and he spent his waking hours during his final year and a half of college operating the official UW-Madison Twitter account as the first social media intern at UW-Madison's University Communications. Shortly after graduating last May, he started as a direct sales account coordinator on the advertising side of Twitter, helping prepare proposals and monitoring campaigns in real time for Fortune 100 clients.
"I'm a jack of all trades when it comes to Twitter advertising," he says.
Kowalsky says he uses the basic data analysis skills he developed in Journalism 202 on a daily basis, and his experience leading a group ad campaign project in Journalism 345, the SJMC's introductory strategic communication course, helped prepare him for his current position.
"My education is really well-rooted in traditional media," he says. "I needed to understand how people used to communicate, how people are communicating and how they will communicate. It really poured the foundation for me to then go forth, taking what I learned about all of that, and apply it to new media."
Harbath has returned to those foundational lessons throughout her 11 years in the political communications field, even as new platforms have continued to surface.
"While the technical tools I was taught in J-school have changed, the strategic skills haven't changed," she says. "J-school set me up with the ability to evolve and adapt."
— Tom Ziemer, '07