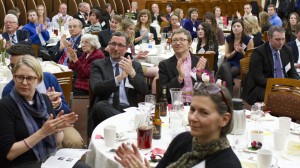 Celebrating Achievements
2015 Alumni Awards Banquet
The faculty and staff of the University of Wisconsin-Madison School of Journalism and Mass Communication invite you to our 2015 Alumni Awards Banquet.
Reception at 6 p.m., with dinner following at 7 p.m.
Friday, April 24, 2015
Gordon Dining and Event Center
Symphony Meeting Room | 770 W. Dayton Street | Madison, WI 53706
Please join us to celebrate the achievement of students, alumni, and friends.
This year's honorees include:
Ralph O. Nafziger Award
For distinguished achievement within 10 years of graduation
Cristina Daglas '06
Senior Editor, ESPN Magazine
Harold L. Nelson Award
For distinguished contribution to research in journalism and mass communication education
Stephen Reese '80
Professor of Journalism & Associate Dean for Academic Affairs,
Moody College of Communication, University of Texas
Distinguished Service Award
For professional contributions in journalism and mass communication
Mike McCabe '82
Former Executive Director, Wisconsin Democracy Campaign
Naomi Patton
Vice President, Weber Shandwick
Registration is required, and paper invitations have been sent.
To register, please e-mail Rowan Calyx at calyx@wisc.edu for more details.