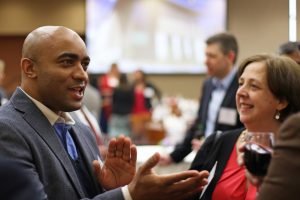 CELEBRATING ACHIEVEMENTS

2017 Alumni Awards Banquet
The faculty and staff of the University of Wisconsin-Madison School of Journalism and Mass Communication invite you to our 2017 Alumni Awards Banquet.
Reception at 6 p.m., with dinner following at 7 p.m.
Friday, March 31, 2017
Gordon Dining and Event Center
Symphony Meeting Room | 770 W. Dayton Street | Madison, WI 53706
Please join us to celebrate the achievement of students, alumni, and friends. All SJMC alumni, faculty and staff, and current undergraduate and graduate students are welcome.
Register Online
Due to past requests, we have discontinued paper invites and banquet registration forms. Register and purchase tickets all online!: https://www.regonline.com/registration/Checkin.aspx?EventID=1929040.
Please note that you can still submit a check for payment. You would still register online, and provided instructions for where to send the check.
Award Winners
This year's honorees include:
Ralph O. Nafziger Award
For distinguished achievement within 10 years of graduation
Bassey Etim, 2008
Community Manager, The New York Times
Harold L. Nelson Award
For distinguished contribution to research in journalism and mass communication education
Pamela Shoemaker, PhD, 1982
Professor Emeritus of Mass Communication & Media Studies, S.I. Newhouse School of Public Communications, Syracuse University
Distinguished Service Awards
For professional contributions in journalism and mass communication
William Dallman, 1986
Vice President/News, KCBS – KCAL
Anne Morgan Giroux, 1986
Founder, Lily's Fund for Epilepsy Research
Richard Satran, 1977
Senior Reporter, Thomson Reuters
Registration is required, and e-mail invitations have been sent.
E-mail Rowan Calyx at calyx@wisc.edu for more details.