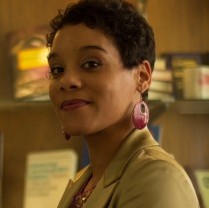 The School of Journalism & Mass Communication's own Assistant Professor Shawnika Hull is being honored as one of eight (8) Outstanding Women of Color in Education for 2014-15 chosen in the UW System's 19th Annual Awards.  Both Hull and Dr. Lillian Tong are the UW-Madison honorees.  The Selection Committee is pleased to note that this year's record number of 17 strong nominations from across university academic and administrative units reflects the interest and high regard in which the Outstanding Women of Color Awards are held.
A campus-wide reception in their honor will be held on Wednesday, October 1st, 2014, from 5:00 to 7:30 pm in the Alumni Lounge of the Pyle Center.  Starting at approximately 5:30 pm, an awards program will be led by Professor Carmen Valdez, who received both UW-Madison and UW System Outstanding Woman of Color awards last year.
UW System's awards reception will be held on Saturday, 18 October 2014, on the campus of UW-River Falls during the 38th Annual Wisconsin Women's Studies Conference of the UW System Women's Studies Consortium.  This year's conference theme is "Gendered Planet: Ethics, Ecology, and Equity".
The UW System Outstanding Women of Color in Education Awards are organized and supported annually by the UW System Women's Studies Consortium and Office of Academic Diversity and Development.   The awards and recognition ceremony was initiated in 1994 to acknowledge the ties and shared concerns among administrators, faculty, staff, and students within women's studies and ethnic studies, and to uphold a continuing commitment to Plan 2008: Educational Quality through Racial and Ethnic Diversity (work that is continued through Inclusive Excellence efforts across the UW System).  At the annual awards ceremony and luncheon, award recipients receive well-earned acknowledgement by both the UW System and their home campus community.