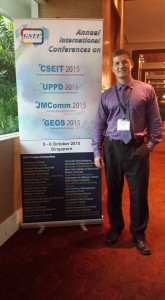 Dr. Keith Zukas traveled to Singapore and spoke at the 4th annual International Conference on Journalism and Mass Communication Oct. 5-6.
At the conference, Zukas spoke about his research paper, "New Media, New Structures: How Digital Journalists Frame Renewable Energy Stories."
The paper, to be published this winter in the Journal on Media and Communication, examines how the media covers renewable energy stories.
For the full story, go here.