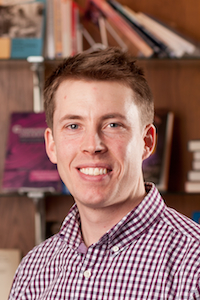 (From the article "UW-Madison prof: Donald Trump is a master of media and Twitter savant" by Pat Schneider, featured in The Capital Times)
Donald Trump is a master in the use of traditional news outlets and social media, said Chris Wells, an associate professor in the School of Journalism and Mass Communication at the University of Wisconsin-Madison.
And Trump's blending of conventional and digital media, "hybrid campaigning," Wells called it, "helped drive his coverage to the nomination."
The study looked at Trump campaign events and coverage in newspapers and blog posts, as well Trumps tweets and retweets of his tweets. What it found is Trump knows how to use Twitter to trigger news coverage.
"I describe him as a Twitter savant," Wells said. "He has just taken to the medium and he tweets provocatively and evocatively in these precise messages that are very widely redistributed by his followers."
The amount of coverage Trump was able to generate was head and shoulders above that of his Republican primary opponents and more than general election opponent and Democratic nominee for president Hillary Clinton, Wells said.
Not that Trump is a celebrity created by social media.
"This guy has been a media creature from the beginning," Wells said. "He's a public relations monster."
The study also showed how Trump used conventional public relations techniques — like staged public events, staged media events and unscheduled media appearances like call-ins to radio and TV shows — to attract press attention. Trump's use of social media then amplified the attention gained through older techniques.
Is this all calculated to manipulate the media?
"My sense is that it's second nature now," Wells said. "He's been in the game so long that he just 'knows'."
Wells said Trump's sense of what to do to hold a crowd is apparent in his speeches, as he responds to the mood of the crowd in a "symbiotic" relationship.
Trump's relationship with the media has been the focus of much attention, both academic and journalistic.
Wells referred to a Harvard University study, released in the spring, that looked at how Trump drew greater, and more positive, coverage than other Republican candidates for the nomination.
Whatever potential negative content news accounts included, like Trump's outlandish statements, was offset by the growing sense of him as a rising figure, Wells said. What's more, negative coverage in mainstream media was not likely to be received as such by potential Trump supporters.
"The press has such low credibility with conservatives that its attacking Trump is actually a badge of courage for him," Wells said.
Media outlets, too, wonder at Trump's hold.
"2 billion worth of free media for Donald Trump," blared a headline in the New York Times in March.
If the media has been annoyed by Trump's uncanny ability to get ink, many commenters were enraged Sept. 16 when Trump called the media to his Washington, D.C., hotel  for a "major announcement" on his claim that Obama was not born in the U.S. There, he inaccurately accused Clinton of generating the "birther" campaign.
"Donald Trump's birther event was a living, breathing act of media criticism," Slate reported. 
The bait-and-switch wasn't much different from much of Trump's campaign, Wells argued.
In defense, journalists can reflect on what message they are allowing him to promote when they are caught off guard or unprepared, Wells said.
Given a trend among media, down to skeleton crews in many shops, to turn to the fast stories sure to garner internet "clicks," journalists might be thoughtful about pulling a story from social media based on retweets of Trump's Twitter posts by his supporters, he said.
Wells said his study showed those retweet rounds predicted news coverage in the next cycle.
"Journalists could be reflective of how deep they are digging, whether they are getting the real story or whether they are getting the easy story prepared by a PR master," he said.
Trump is breaking the rules and the media is realizing that when they try to unmask him, it can wind up being more attention that works to his advantage, Wells said.
That's partly a function of the polarized media environment, Wells said. Trump supporters hold the media in such low regard that they'll embrace any gaffe and cheer any crudity by their candidate that it reports.