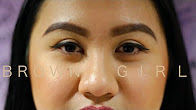 The Wisconsin Film Festival will have a representative of the UW SJMC this year.
Student Violet Wang's documentary "Brown Girl" was accepted to the Madison festival, which takes place March 30-April 6.
"Brown Girl" is the life story of a Filipino American who is also a spoken word artist and printmaker. She came to America when she was 7, but could not speak English. Now she uses her language skills and artwork to tell stories about the Filipino people, her family and her identity. This video is a portrait of personal stories and spoken word performances.
Wang's documentary was produced as a part of the Long Form Video Journalism course. This class covers visual non fiction storytelling, with an end of the semester showcase of documentary projects. The class is taught by Pat Hastings.
The documentary's trailer can be found at: https://vimeo.com/158119741