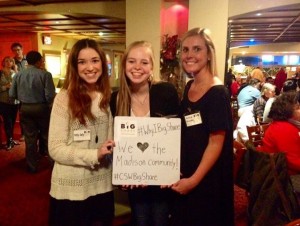 Students in the School of Journalism and Mass Communication brought their social media skills into the community on March 3 to help local nonprofits raise $232,291 from 1,749 people.
The money was raised through Madison's first one-day, online giving event called the "Big Share." Hosted by Community Shares of Wisconsin and sponsored by the Madison Community Foundation, the event aimed to raise money for a group of 70 area nonprofits working toward building a fair and just society and a healthy environment. Five students played a key role by helping manage the Big Share's social media strategy, leading social media training workshops, and providing customized one-on-one support for nonprofits. Organizers now expect to make the giving day an annual event.
The student involvement is part of a larger relationship between the School of Journalism and Mass Communication and Community Shares. Since 2011, the nonprofit member association has provided funding to Madison Commons, the department's news site focused on community issues. Funds are currently applied toward scholarships for interns.
This year, interns include SJMC majors Kelly Daly, Louisa Lincoln, Annie Murphy, and Sabina Badola. Graduate student Mitch Schwartz has been working with Community Shares since 2011, providing social media consultation and a series of workshops designed to teach social media best practices to help nonprofits increase their capacities.
"Students are doing very real work that is necessary for those organizations to survive and thrive," said Professor Lew Friedland, who helped establish the partnership. "They are doing media work in an expanding field of nonprofit media that mirrors client accounts that they might have or jobs they might get once they graduate."
While organizers of the giving day weren't sure how the community would respond to the online format, the money raised exceeded their goal by 20 percent.
"The member nonprofits' feedback has been overwhelmingly positive," said Cheri Buckner, associate director of Community Shares. Buckner said that half of the people who donated during the Big Share were new donors to the participating organizations. Survey data also shows that 63 percent of donors told other people about the Big Share and half of those did so through social media. 98 percent of those surveyed also said they would participate again.
Buckner noted the plan to create a viral campaign with content that was easy to share appears to have worked. Before the giving day, students worked directly with member organizations for months to teach them how to best connect with those that support their mission. While some were already active on social media, others were not.
"It can be hard because a lot of these groups only have a few employees and so a lot of them don't necessarily have the time to set up Facebook posts or Twitter posts in advance," said Kelly Daly, an intern at Community Shares. "I started out by analyzing the different groups—where they are with their social media, and where we wanted to get them to for the Big Share."
For the student interns, the experience has been an opportunity to apply strategic communication concepts beyond the classroom.
"The Big Share was really the first real life project I had to say, ok, this is how you should brand your social media, or certain images, and this is the ultimate goal, and coming up with tag lines and slogans," said intern Daly. "It was really cool to have the real world experience after we had learned so much about it."
Louisa Lincoln, another intern, agrees.
"There is so much overlap with what I'm learning there [at school]," said Lincoln. "I can go and directly apply it at Community Shares which has been a lot of fun."
But just because the giving day has ended, doesn't mean the work has too. Students are using social media data to gauge what was successful. While that information will be used to improve social media use for next year's Big Share, it could have a broader reach.
Schwartz, who is pursuing a PhD, is basing his dissertation on the project. He plans to meet with participating organizations to gather their feedback and also analyze social media data. Schwartz said he plans to use special software to create and analyze network maps of Twitter followers and use of the event's hash tag. He also plans to compare Twitter strategies with dollars raised at different points throughout the giving day.
"There's a shift especially in younger generations and how they understand these causes that most of the nonprofits are working in," said Schwartz. "I want to help the Community Shares nonprofits and nonprofits in general understand how younger generations are engaging with issues that are important to them with the goal of helping nonprofits better connect with citizens on the issues they are passionate about."
In his workshops, Schwartz focused on efficient strategies for nonprofit groups that often have limited resources.
"You can put in a relatively small amount of effort but if you are using your network connections appropriately and you are aware of the network you exist in, that limited time and effort commitment can have big dividends—for online donations in this instance—but also for people showing up to events or for specific causes," said Schwartz.