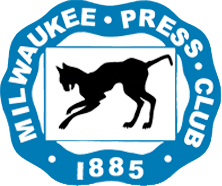 The Milwaukee Press Club and the Wisconsin Broadcasters Association both announced finalists and winners for 2014 student reporting contests.
The Milwaukee Press Club has announced the preliminary results for the 85th "Excellence in Wisconsin Journalism" competition. Finalists won't know if they won a gold, silver or bronze award until the final results are announced May 15 at the club's Gridiron Dinner.
In the category of Best News Story Single or Ongoing (Video), "Underground Storage Tanks" is a finalist and the reporter was Taylor Chase, who produced the story for The Badger Report.
The Badger Report's Tricia Fishbune and Julia Skulstad were finalists in the TV Sports category for a story called "Women's Snow Soccer". In the same category, Brett Bachman and Sam Zwick are finalists for "UW Boxing Comeback."
Curb Magazine swept the Best Long Form Feature Story category: Ashley Berg for "Robbing the Night," Jasmine Sola, "The Forest People," and Laurent Nicole Mather for "Trees are Stronger than Wood." Curb is a finalist in the category of Best Use of Multi Media (Barbara Gonzalez, Jasmine Sola, Mara Jezior and Michelle Gonzalez) for "Water World." Curb Online is in the running for Best Website Design (Ashley Berg, Lanni Solochek, Katy Stankevitz, Samantha Wolfin and Michelle Gonzalez.)
Under the category of Best Short Feature Story, the Daily Cardinal is mentioned for Adelina Yankova's "Attention Project: Room for Improvement in LGBT Housing" and Brian Weidy is a finalist for Best Sports story for "USHL Hockey Returns to Madison, but Will the Fans? In the same category, Jonah Beleckis for "Giving Back the Wisconsin Way." Wil Gibb is a finalist for Best Still Photograph "Melvin Gordon."
Classroom projects were also recognized. Taylor Chase' documentary is listed under Best Program or Documentary for "26.5," a look at the raw milk issue in Wisconsin.
Two J335 Intermediate Reporting classes are finalists for project work. Stacey Forster's class project, Treading Water, is a finalist in the Best Local News or Feature Website (Irene Burksi, Jenny Falk, Michael Frett, Pamanisha Gross, Bryan Kristensen, Gabrielle Menard, Elaine Menigo, Becca Radix, Cassie Sternwald and Zhejun Wang.
Pat Hastings's J335 course is a finalist for Best Use of Multi Media, for "In the Red," an examination of the costs of going to college. Students include Madeleine, Behr, Phebe Myers, Jasmine Sola, Garth Beyer, Michael Kuca, Esta Pratt-Kielly, Andy Burjek, Katy Caron, Mackenize Chaffee, Rachel De Palma, Tricia Fishbune, Meghan Hakes, Steve Horn, Mary Kate McCoy, Courtney Mullen, and Chistropher Yue.
At the beginning of March, the Wisconsin Broadcasters Association announced the winners of the Wisconsin Broadcasters Assn. Student Awards March 7.
At the Marriott Hotel in Middleton, students won 1st place for TV News Story entitled "Student Made App," (Stephanie Awe and Megan Garske).
The J335 Websites "In the Red" won 1st place (eds. Madeleine Behr, Phebe Myers, Jasmine Sola, Garth Beyer, Michael Kuca and Esta Pratt-Kielly). Writers: Andy Burjek, Katy Caron, Mackenzie Chaffee, Rachel De Palma, Meghan Hakes, Steve Horn, Courtney Mullen and Christopher Yue. The site examines the real cost of college beyond tuition, and how students juggle the balance of school, finances, and lifestyle.
The fall section of J335 won 3rd place for  "WIVote" on November election coverage (eds. Tammy Tian. Kayla Schmidt, Dana Singer, Anthony DaBruzzi, Webmaster). Staff: Michelle Aquilar, Alex Arriaga, Jonah Beleckis, Aliza Goldberg, Barb Gonzalez, Michelle Gonzalez, Sarah Hopefl, Sitong Liu, Brian Weidy.
In Television News Documentary: 2nd Place, Chris Hwang/Mackenzie Chaffee, "Second Chance" about a woman about to be released from the Tacheedah Women's Prison and her fears about starting a new life.
WSUM Well Represented Locally and Nationally
WSUM also fared well. WSUM brought home first place trophies for:
Best Sports Story — Wisconsin Football Update
Best Public Affairs/Talk Show – What Elo is trying to do
Best Sports Play-by-Play – Wisconsin vs. Kentucky Final Four
Best News Story – Band Together to Beat Cancer
The student-run station also received two-second place awards and three third place awards, for a total of 9 top three finishes in the statewide competition.
Additionally, at the Intercollegiate Broadcasting System's 75th Conference in New York City the same day, WSUM student radio was a top 3 finisher in seven categories:
Best Public Affairs Program – Maddy O'Neill for Treason and Cheating
Best Spot News – Maddy O'Neill for Chris Christie Scandal Update
Best Public Affairs Event/Promotion – Sarah Hopefl for Band Together to Beat Cancer
Best Public Service Announcement – Anna Batz for Sexual Assault PSA
Best Play-by-Play (Basketball) – Reid Magnum for Wisconsin vs. Kentucky Final Four
Best Sports Play-By-Play (Others) – Reid Magnum and Scott Memmel for Wisconsin vs. Missouri State Women's Volleyball
Best Station Promo – Evan Boyd for Jack White Promo
Competition was intense, as exemplified by the more than 1,400 attendees from college, high school, and even junior high school stations from all over the world.
The seven nominations put WSUM among the top 5% of all categories, ranking in the top 10 in most categories.