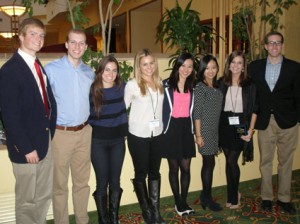 UW Madison SJMC students were well represented at the annual Wisconsin Broadcasters Association student awards ceremony on March 2.
There were quite a few students at the Madison ceremony, and the UW was the recipient of many rewards.
UW Election Connection: 1st place for Best Website: a collaborative effort between the J335 classes of Steve Walters and Pat Hastings.  The Web designers and editors were: Caitlin Furin, Jade Likely, Muge Niu. They produced the multi media Web site for the November election.
Within that site, we won 1st place for radio news: Jocelyn Van Beek, who examined the use of social media in the November election.
Kyle Deckelbaum (Graduated May 2012) and Parker Gabriel won 2nd Place for their Long Form Television documentary, "F.C." (The story of Wisconsin softball player Mary Massei. The outfielder was diagnosed with thyroid cancer three weeks before she was supposed to come to the university. It was produced in J475 Special Topics: Long Form Video Journalism).
And, SJMC students won 2 of the 4 scholarships: Jocelyn Van Beek and Christopher Vosters each received a $2,000 scholarship for their academics and dedication to the field.