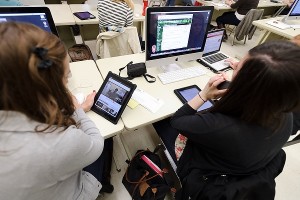 Journalists, students and educators will join a free training hosted by Google News Labs in the UW-Madison School of Journalism and Mass Communication Friday, Feb. 10, 2017.
Trainers will cover a range of tools useful in reporting and other information gathering. The session is co-sponsored by Google, the journalism school and the Madison chapter of the Society of Professional Journalists.
Location
Training will be held in 2195 Vilas Hall, 821 University Ave., Madison
Preliminary schedule (subject to change):
10 a.m. to 10:20 a.m.: Google Tools Basics: Advanced Search, Trends, Translate, Scholar, Privacy Tools, Test My Site (mobile/AMP)
10:30 a.m. to noon: Google MyMaps and Google Fusion Tables. Review of free online courses and single-tool trainings
Noon to 1 p.m.: Lunch on your own
1 p.m. to 2 p.m.: Google Earth, Earth Engine Timelapse, Juxtapose JS
Bonus time, if interest: Google Streetview and Google Cardboard
Registration for this training is now closed. 
If you have questions, please contact Kathleen Culver at kbculver@wisc.edu.
Parking Options
A variety of parking options are available proximate to Vilas Hall, the site of the training. Allow plenty of time for parking because it goes fast in Madison.
UW Lots
The following lots are closest to Vilas Hall and have limited half-day and full-day parking. This page is usually updated to show current availability of spots. All lots accept credit cards.
Lot 7, Grainger Hall Garage
Lot 46, Lake & Johnson Ramp
Lot 83, Fluno Center Garage
City Lot
Lake Ramp: Lake Street, north of University Avenue.
Attendant or credit card payment options
Private Lot
Lucky Building/University Square underground parking 777 University Avenue. Enter on Lake street between University Avenue and West Johnson. 24 hour metered; pre-pay at station before exiting.