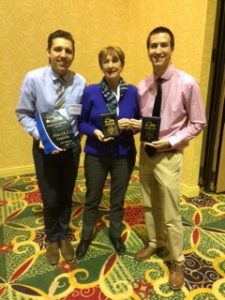 UW Madison students were rewarded for their hard work at the annual Wisconsin Broadcasters Association student awards in Madison.
Student reporters for The Badger Report television newscast swept the TV News Story category, and the Podcast Radio category was shared by SJMC students and WSUM.
SJMC student Ken Kosirowski won a $2,000 scholarship, and AJ Garcia, sports director at WSUM, won a Leadership Award for his skills in the field.
Left to right: AJ Garcia, Pat Hastings, Ken Kosirowski
Here is a listing of the awards:
TV News Story:
1st Place: Helen Matsumoto  https://youtu.be/H9rlhCeHm5g
2nd Place: Helen Matsumoto
3rd Place: Helen Matsumoto/Logan Reigstad
TV News Series/Documentary
2nd Place: Jake Rickun "Log Out"  https://youtu.be/EP7BpSH3mZw
TV Sports Story:
1st Place: Robbie Heimbruch
2nd Place: Ken Kosirowski
Non News Audio:
3rd Place: Maddy Heim
Best Website:
1st Place: WSUM  http://wsum.org
2nd Place: The Badger Report  https://badgerreport.journalism.wisc.edu
Audio Podcast:
1st Place: WSUM
2nd Place: Sandra Kinzer
3rd Place: Taylor Palmby
Newscast Radio:
1st Place: WSUM
2nd Place: WSUM
News Story Radio:
3rd Place: WSUM
Sports Story Radio:
1st Place WSUM
Sports Play by Play Radio:
1st Place: WSUM
Social Media:
1st Place: WSUM