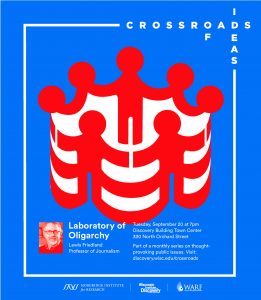 Event Details
When: September 20, 2016, 7:00 PM
Location: H.F. DeLuca Forum, Discovery Building, 330 N. Orchard St.
Contact:info@discovery.wisc.edu
This public lecture series, held at 7 p.m. on the first Tuesday of most months, addresses challenging and engaging social science topics such as politics, policy issues, ethics, public perceptions, law and science and society.
The name Crossroads of Ideas reflects the importance of the Discovery Building as a place for campus and community to learn about thought-provoking topics. Crossroads refers to both the building's central location on campus and the intersection of the dozens of different disciplines that work and study here.
Crossroads of Ideas is supported by the Morgridge Institute for Research, Wisconsin Institute for Discovery and WARF.