Sang Jung Kim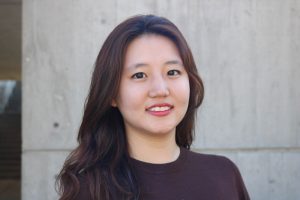 Sang Jung Kim (Sang), is a doctoral candidate in the School of Journalism and Mass Communication at the University of Wisconsin-Madison. She studies the interaction between technology, politics, and social identity, with particular attention to the mediating role of social media platforms and the spread of information to the public. She explores the identities of message creators and message receivers on social media platforms—including racial identity, gender identity, and political identity—and utilizes both experimental methods and computational approaches to understand how consumers and creators of such content introduce and are impacted by biases.
Her work has been published in flagship journals, including the Journal of Communication, International Journal of Press/Politics, Information, Communication, and Society, Journal of Computer-Mediated Communication, and Computational Communication Research, among other peer-reviewed journals.
Sang holds an M.A. in Communication and B.A. in both Communication and Political Science & Diplomacy from Yonsei University. Sang is affiliated with the following research groups in the department: SMAD, MCRC, CAMER, and KEG.
Website: https://www.sangjungkim.com/
Google Scholar: https://scholar.google.com/citations?user=__lA1zYAAAAJ&hl=en