Erin McGroarty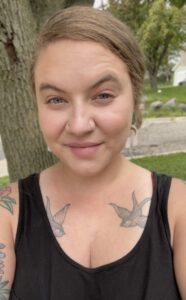 Erin McGroarty is a graduate student pursuing a professional Master's degree in the School of Journalism and Mass Communication with an intended specialization in reporting on prisons, policing and mass incarceration in America.
Erin holds an interdisciplinary B.A. in journalism, history and political science from the University of Alaska Fairbanks. She has reported on policy, government, climate change, social justice movements and the COVID-19 pandemic for Alaska's second largest newspaper for the past three and a half years.
Erin has been recognized for some of the best political and health-related coverage statewide by the Alaska Press Club in 2018 and 2019 and was one of only three dozen women across the country accepted into the Reynolds Journalism Institute 2019 Women in Journalism conference.
Erin was selected as a 2021 fellow for the University of Wisconsin Madison Center for Journalism Ethics.