Steven Potter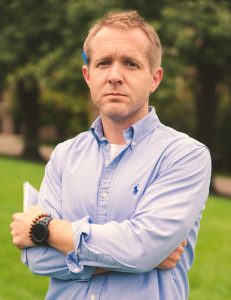 Steve is a graduate student pursuing a master's degree with a focus on multimedia reporting and data visualization.
He's been a reporter for more than 15 years and is a regular contributor to Isthmus newspaper, Milwaukee Magazine, Wisconsin Public Radio, Discover magazine, Progressive magazine, Wisconsin People & Ideas magazine and other outlets. During his undergraduate studies at UW-Milwaukee, he wrote for the Milwaukee Journal Sentinel and The Shepherd Express newspapers. He's covered everything from education to entertainment and crime to technology. He even wrote a sports story once.
His educational goal is to master (PUN FULLY INTENDED) the art of layering multiple types of storytelling (audio, video, print, graphics, etc.) to provide the reader/viewer/listener with a richer experience.
Steven is also a Senior Fellow with the Center for Journalism Ethics