"Estelle" Ranran Zhu Mi
Ph.D. Candidate & Teaching Assistant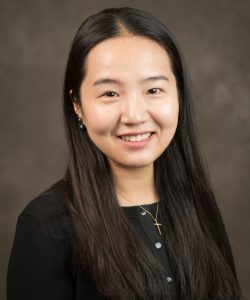 "Estelle" Ranran Z. Mi is a Ph.D. candidate in the School of Journalism and Mass Communication at UW-Madison under Dr. Dhavan Shah and Dr. Catalina Toma. Her research emphasis is computer-mediated communication and health, primarily focusing on behavioral change and intervention. While pursuing her Ph.D. at UW-Madison, she has collaborated with a wide range of interdisciplinary experts in communication, medicine and social psychology.
She is currently pursuing two lines of research. The first line of work aims at examining how health technology enhances communication and shapes users' cognitions and behaviors, specifically in the context of critical care and care transitions. The second line of research concerns media-based task-switching behavior, which will also be her dissertation that investigates the antecedents, dynamics and outcomes of this media use pattern. Her work has been published in both communication and medicine journals such as Health Communication, Journal of the American Geriatrics Society, BMC Geriatrics, Academic Emergency Medicine. See her website for more details.
Ranran has over four years research experience with NIH-funded clinical trials in the School of Medicine and Public Health at UW-Madison. She served as a research assistant of Dr. Manish Shah at Dept. of Emergency Medicine on a multi-site intervention study focusing on paramedic-delivered care transitions. She is also an active research group member of Health Information Technology Studies (HITS) and Social Media Lab (SML).
While dedicated to conducting research, she also has a commitment to pedagogical practices. She is currently a TA for JOURN 201: Introduction to Mass Communication where she leads two synchronous online sessions with a total of 32 students. She was a TA for COM 210-Multimedia Content Creation and COM 105-Communication in Global Contexts at WSU.
Ranran received her B.A. in Journalism from Zhejiang University in China and M.A. in Communication Studies from Washington State University. In her leisure time, she enjoys spending time with her family in Madison, playing the piano, downhill skiing, cooking and baking.
Selected publications 
Mi, R. Z., Kornfield, R., Shah, D. V., Maus, A., Gustafson, D. (2020). Intraindividual, Dyadic and Network Communication in a Digital Health Intervention: Distinguishing Message Exposure from Message Production. Health Communication. https://doi.org/10.1080/10410236.2020.1846273
Mi, R. Z., Hollander, M. M., Jones, C. M., DuGoff, E. H., Caprio, T. V., Cushman, J. T., Kind, A. J. H., Lohmeier, M., & Shah, M. N. (2018). A randomized controlled trial testing the effectiveness of a paramedic-delivered care transitions intervention to reduce emergency department revisits. BMC Geriatrics, 18, Article 104. https://doi.org/10.1186/s12877-018-0792-5
Selected Grants and Awards
2016 Graduate Student Research Award, $5,000 research grant
Global Health Institute (GHI) of UW-Madison
2018 SJMC Research Fund Award, $1,000 research grant
School of Journalism and Mass Communication, UW-Madison
2020 SJMC Research Fund Award, $1,000 research grant
School of Journalism and Mass Communication, UW-Madison
2020 Student Research Grants Competition, $1,200 Conference Presentation Fund
The Office of Diversity, Inclusion, and Funding, Graduate School, UW-Madison
Website: https://estellemi.com/
Google Scholar: "Estelle" Ranran Z. Mi