Ranran Zhu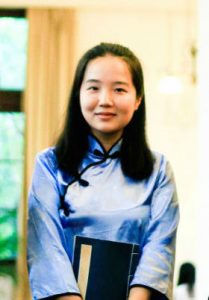 Ranran "Estelle" Zhu is a first-year doctoral student in the School of Journalism and Mass Communication. Her research emphasis is communication technology and health with a focus on its cognitive and behavioral impacts. Currently exploring experimental and computational approaches, she wants to reveal the effects of emerging digital media at both psychological and social level. She is currently a research assistant of Dr. Manish Shah at BerbeeWalsh Dept. of Emergency Medicine, UW School of Medicine and Public Health on several projects including community paramedicine, aging, Medicare, and telemedicine.
Ranran received her B.A. in Journalism from Zhejiang University in China and M.A. in Communication from Washington State University. Prior to enrolling at UW-Madison, she was a TA for COM 210-Multimedia Content Creation and COM 105-Communication in Global Contexts at WSU, where she also worked with "Multitasking" research team in the lab and "Great Plays", a risky alcohol consumption prevention project founded by Coors Association and ABMRF, in the field.
In her leisure time, Ranran is a piano accompanist, a die-hard iUser, and a Chinese cuisine chef in her kitchen.
More information about BerbeeWalsh Dept. of Emergency Medicine is available here: http://www.emed.wisc.edu