Shreenita Ghosh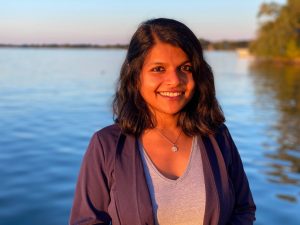 Shreenita is a doctoral candidate in the School of Journalism and Mass Communication at UW–Madison. Her primary field of research interest is in digital social movements in the USA and India and digital backlash communication network ecology. She uses multiple methods to gather data, triangulate results to answer key questions. She is experienced in a variety of qualitative and quantitative research methods, including semantic analyses (POS parsing and dependency analysis, semantic network, topic modeling), social network analysis, critical discourse analysis, online ethnography, human-coded content analysis, and survey work. Her work has been published in International Journal of Press & Politics, Political Communication, Computers in Human Behavior, and Health Communication. Her book chapters have been published by McGill-Queen's University Press and Lexington Books.
Her dissertation theoretically reframes the concept of backlash, expands it, and empirically tests it to uncover the rise, flow, and nuances in the online backlash discourse. Her case study is the #MeToo movement. Specifically, she is developing a technique for identifying backlash content across media platforms and analyzing the flow of the narrative across social media. Her primary goal as a researcher is to understand the role and impact of social media on social movements and investigate ways to mitigate and mediate backlash discourse surrounding online social movements. She has received the IRIS Mellon Fellowship and the Louise Elizabeth George Scholarship to support her research work.
She serves as a WSUM Governance Shared Governance Board Member, News and Online News Division [NOND] Board (membership committee graduate liaison) as well as an active member of South Asia Communication Association.
She has been a teaching assistant for multiple journalism school courses including Principles and Practices of Reporting (J335, Fall 2020-present), Principles and Practice of Strategic Communication (J345, Fall 2018-Spring 2019), Media Writing (J202, Fall 2016-Spring 2018), and Introduction to Mass Communication (J201, Fall 2015-Spring 2016). She has also been a teaching assistant for Approaches to Critical Thinking and Writing (Inter L&S 121, Summer 2016-2017) and a language partner (Intermediate Hindi, Summer 2018).
Prior to joining the Ph.D. program, she was a producer in Red FM (India's largest radio network) and then a copywriter and account executive in the advertising agency Log5 Communications, Mumbai. She also served as assistant director for the Satyajit Ray Film and Television Institute short film "Aadha Quarter".
For more information, recent projects, and blog please visit: www.shreenita.com