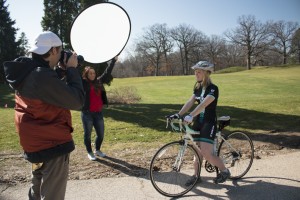 It's early March, and top marketing executives from Trek Bicycle are holed up in a conference room with their advertising team.
They've got competing creative strategies in front of them, and they spend more than two hours hashing out a strategy to increase sales of their bikes for women. The media planners ask questions about seasonal differences in sales, while the account planners think through what the target consumer would be like on her Instagram social media account.
"It's like finding a needle in a haystack," account manager Liz Asher says of the strategy-development process.
But this room is far from swank offices of the world's top advertising agencies on Madison Avenue — they're in the second-floor Digital Media Studios in College Library on the University of Wisconsin-Madison campus.
For this project, Waterloo, Wisconsin-based Trek is putting its confidence in a group of 27 students in UW-Madison's School of Journalism and Mass Communication's J475: Strategic Communications Campaigns Capstone course, who've taken on the project as a semester-long assignment.
"They've given us incredible tools and access to information and really let us run with it," says Monica Wilson, a senior from Plymouth, Minn., and an account manager on the project. "They've been involved, but at the same time have let us lead the strategy and haven't told us the right or wrong way to do things."
For the past several years, UW-Madison students in the capstone course have been developing real-life strategies for Wisconsin companies rather than participating in the National Student Advertising Competition.
"We felt that doing a capstone project on our own with a client that we get ourselves would give the students an overall better experience," says faculty associate Deb Pierce, who teaches the course. "The real client is in the room the entire semester."
The project grew out of a connection between Pierce and a friend who worked at Trek, who put her in touch with Dean Gore, the company's global director of marketing and 1987 graduate of UW-Madison's Wisconsin School of Business. Gore took Pierce up on her offer of student time and resources to help Trek explore a part of its business while giving students the opportunity to get hands-on learning experience.
Amanda Schulze, women's business manager for Trek, says the students have offered a fresh perspective and new approach to a market that holds great potential for Trek. The company has more than 50 models for women, and having the students develop a strategy for reaching a new target audience will help Trek take a big step forward, she says.
"It was a leap of faith to trust that they're going to use our time wisely and the information we provide," Schulze says. "They were able to get into the eye of the consumer pretty quickly…and understand who this consumer is and speak to her."
Students in last fall's J449: Account Planning course started the work with Trek, conducting secondary and primary research about the bike company's women's business.
The spring class is using that base of knowledge to craft new message and positioning strategies for Trek, as well as fully developed creative, public relations and media plans.
"A lot of it was topsy-turvy figuring out what the client wanted, and now we've been working really well as a class to work together to accomplish the goal," says Asher, a senior from Lake Forest, Illinois. "Our big idea came together as the whole agency, not just one person from the creative team."
For the students, the class offers an opportunity like no other — they're working for a real client, getting real feedback and managing communication within their agency, and with the client and Pierce.
Most students in the course are seniors, gaining practical experience they'll take with them as they move into internships and jobs after graduation in May.
"The experience I've gotten in the capstone has given me a lot of points to talk to in interviews that I wouldn't have otherwise," Wilson says. "I can be an intern (somewhere), and that's great, but I'm an account manager in this class, and I can talk to my skills because I'm given more responsibility in the classroom."
The students are spending the next couple of weeks finalizing the pieces to execute their strategy. They worked with Schulze to use Trek bikes and other equipment for a photo shoot in Madison, and presented their full campaign strategy to Gore, Schulze and other top Trek executives on May 5.
"They're the new young minds in the industry, and it's exciting to see," Pierce says. "If the quality of students in our program is any indicator, it bodes well for the industry."