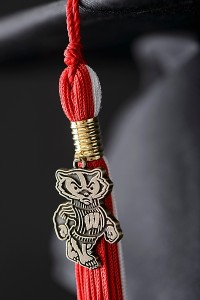 The School of Journalism and Mass Communication will hold a commencement ceremony for graduating students May 12 at noon in the Wisconsin Institutes of Discovery.
SJMC alums Mike Brophy and Blair Brophy will be this year's commencement speakers. Mike (class of 1981) is Chief Communication Officer and Chief of Staff to the CEO at Aurora Health Care in Milwaukee. His daughter Blair Brophy (class of 2012) is the PR and Social Media Manager at Fiskars in Madison.
They will kick off the commencement ceremony with an address to students, which will be followed by a short program of individual recognition led by director Hemant Shah.
Join us on Friday, May 12, from 12:00 to 2:00 p.m. in the H.F. DeLuca Forum of the Wisconsin Institutes for Discovery's Town Center (330 N. Orchard Street, Madison, WI  53715).
Note: Diplomas will not be presented at this function. Details on the formal graduation ceremony for the entire campus can be found at: http://www.commencement.wisc.edu.