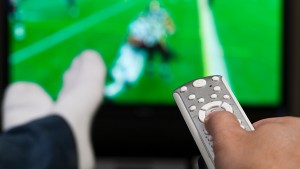 A band of hardened, leather-skinned cowboys rides across the prairie in pursuit of a seemingly endless stream of cats. One cowpoke is shown rolling up a ball of string; another, his right arm in a sling, runs a lint roller over his jacket.
It's a clever, humorous commercial, the sort that draws in a viewer, even if he or she wasn't already glued to the television. And during the Super Bowl, most viewers don't look away during commercial breaks.
There's just one small problem: What was the amusing cat-herding spot, which debuted during the big game back in 2000, advertising? Chances are you don't remember, says Doug McLeod, Evjue Centennial Professor in theUW-Madison School of Journalism and Mass Communication.
McLeod
When he critiques Super Bowl ads with his strategic communications classes, McLeod uses the commercial by EDS, a technology services company that was bought by Hewlett-Packard in 2008, as an example of "vampire creativity" — an advertisement that's so engaging it buries the brand and, thus, the whole purpose of the message.
It's one of the great challenges facing advertisers in their constant quest to reach audiences. And it's a tricky pitfall to avoid in the high stakes setting of the Super Bowl, where viewers are watching but expect to be entertained. That's a blessing and a curse, says McLeod.
"You're expecting great ads. And very few ads are great," he says. "The two or three ads that really do cut through, grab people's attention and are memorable are the big winners."
So what sort of commercial can meet those expectations? What makes a good Super Bowl ad?
For the most part, the same qualities that characterize any other effective ad. McLeod says spots need to fulfill two objectives: to entertain while also tying in the product or brand so viewers will remember it, even after they've watched Russell Wilson and Peyton Manning trade touchdowns for four quarters.
But the rise of social media platforms has added another layer, as companies try to build buzz and foster consumer engagement. Hashtags are a regular feature of commercials, as brands nudge viewers to tweet about their ad, watch it on YouTube and share it with their friends.
Swedish clothing company H&M is even allowing users to vote to determine the ending to their commercial this year (one option is a nude David Beckham).
Pierce
"A few years ago, advertisers were seeking to create that buzz after the show. But now, they're going for that effect before, during and after," says Debra Pierce, a faculty associate in the School of Journalism and Mass Communication who has spent more than 20 years in the marketing and strategic communication industry. "They're looking for ways to increase their return on investment. Building buzz and engagement through social media platforms allows advertisers to do just that."
Humor has become the most popular tactic to entertain and generate buzz, in part because it can easily be done in 30 seconds while still being memorable.
"Humor creates a positive link in your mind with a brand, and it's also distracting," says Lyn Van Swol, an associate professor of communication science in the Department of Communication Arts who analyzes Super Bowl ads with her Theory and Practice of Persuasion class. "It tends to invite less processing of the ad, but you still are paying attention to it, so you get the familiarity with the brand logo without the scrutiny of the brand."
Van Swol
So when you're watching Stephen Colbert's wacky antics on behalf of Wonderful Pistachios, you probably won't be thinking about the texture and taste of the company's nuts.
The opportunity to make an impression doesn't come cheap, either: 30 seconds of air time cost a reported $4 million this year, an all-time high, and that's not including production costs or public relations, special event and promotional expenses for the ad campaign. Companies bank on the fact that bolstering their brand images in the long term will pay back those immediate costs.
"It becomes an extremely expensive proposition," Pierce says, "but the return can be pretty high."
by Tom Ziemer