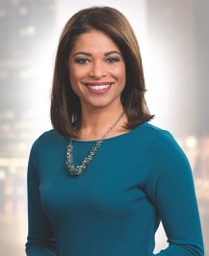 Toya Washington, an anchor at WISN 12 News in Milwaukee, has been chosen as this year's Wisconsin Journalist in Residence at the University of Wisconsin-Madison.
The program brings state journalists to campus to meet with faculty, staff and students in classroom and informal settings and to see firsthand some of the programs, personalities and facilities at the state's flagship university. During her visit, Washington will visit a section of Intermediate Reporting and hold a brown bag lunch with students at noon on Thursday, April 16. (For more information about how to attend the lunch, please contact career adviser Pam Garcia-Rivera.)
Washington, an Emmy winner and four-time nominee for breaking news coverage, joined WISN in 2002 and co-anchors the 5 p.m. newscast for the ABC affiliate. She previously co-anchored the top-rated 6 p.m. newscast, and was a co-anchor and reporter for "12 News This Morning," which airs weekdays from 5 to 7 a.m.
She grew up in Minneapolis, where she fell in love with the news business in high school during the first day of her internship at WCCO-TV, the CBS affiliate in the Twin Cities. Washington graduated from UW-Madison with a bachelor's degree in journalism and women's studies and spent six years at WISC-TV, the CBS affiliate in Madison, working as a weekend news anchor and reporter. She has also been an active member of the National Association of Black Journalists.
Washington, who serves on the Board of Visitors for the UW School of Journalism and Mass Communication, says she believes staying connected to her alma mater helps cultivate an ongoing synergy.
"To get an insider's view from different generations of journalists and to explore what's happening right now in the industry, through students and faculty, helps me improve as a journalist. It can help set the tone of where the industry is headed, where it needs to improve and adjust to the changing needs," Washington says. "The networking and connections are of greater value than most people likely realize. My hope is to deepen this relationship over time."