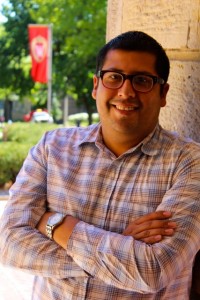 Alberto Orellana-Campos has been selected by the College of Letters & Sciences as a Teaching Fellow, which recognizes graduate students for their outstanding success as students and teachers. In addition to a $1,000 award, winners serve as instructors at the Fall L&S TA Training for 300-400 new and experienced TAs from across campus.
Orellana-Campos has taught three of the department's core courses for undergraduates: a service course that meets the ethnic studies requirement (J162), an introductory course that meets the Comm-B requirement (J201), and a skills-based, boot camp lab course for newly admitted journalism school students (J202). Each of these classes addresses a slightly different student audience and requires its own set of skills and knowledge.
Faculty appreciate the high standards to which he holds his students and that he provides timely, useful and creative feedback to them. Students comment that he "especially excels in moderating class discussion – we could get heated and he would never shut a viewpoint down but tactfully redirect the conversation."
Caitlin Cieslik-Miskimen was named by L&S an alternate and would be called upon to provide TA training if another Fellow was unable to do so. Cieslik-Miskimen has taught two of the department's core courses for undergraduates, a course on mass communication history (J560) and one on contemporary issues in media and communication (J561).
Faculty report that she is dedicated to delivering the best course experience possible for the students. She has been instrumental in developing writing assignments that are effective and has designed a tool that helps students understand major eras in US media history.
Cieslik-Miskimen receives high praise from students. She explains concepts clearly and effectively and provides assistance and advice in a compassionate way – she is never condescending or aloof. It is clear that students respect her abilities as an instructor. Their comments are peppered with "she is the best TA I've had at UW" and "In my view, she is a master teacher in the making".