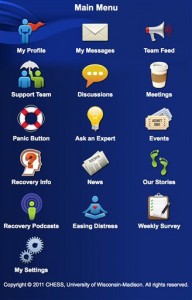 University of Wisconsin-Madison researchers have developed a smartphone application they have shown can be effective in treating people who struggle with addiction. A team in the Center for Health Enhancement System Studies (CHESS) created the app to help patients with alcohol use disorders. The results of the team's study were published in the most recent issue of JAMA-Psychiatry.
The app, the Addiction-Comprehensive Health Enhancement Support System (A-CHESS), was designed to deliver continuing, personalized support to people recovering from alcoholism by providing access to peer-to-peer messaging and discussion forums, a "panic button" for immediate video-chat with counselors, alerts when users get too close to bars and other "hot spots," and guided-relaxation audio.
The study found that A-CHESS users reported fewer risky drinking days (days in which drinking exceeded a set threshold) and had a higher likelihood of consistent abstinence from alcohol.
The study was led by Professor David Gustafson, Director of CHESS.  Dhavan Shah, Maier-Bascom Professor in the School of Journalism and Mass Communication, serves as Scientific Director in CHESS.
Numerous media outlets have covered this advance, including:
ABC News: Sober smartphone app aids boozers' recovery
Health: Smartphone app may help people overcome alcoholism
Medical Daily: Recovering alcoholics can use smartphone app to reduce number of risky drinking days
Reuters: Mobile app may help people recovering from alcohol abuse: study
US News and World Report: Sober smartphone app helps recovering alcoholics stay sober
Yahoo: Sober smartphone app aids boozers' recovery
The Japan Times: App helps American boozers to stay sober
The Daily Mail: The sober phone: App for alcoholics can set off an alarm and call for help if they stray too close to a bar
Boston Globe: Smartphone app helps alcoholics stay sober