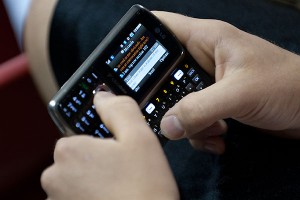 Twitter is changing the way students and professors interact in more classes than ever before.
Instructors are expanding their classroom space online by using hashtags for discussions, sharing articles and more. Professors and students are working together to provide a new communications channel in the college academic experience.
Journalism courses were the first on campus to use Twitter hashtags, because as modern journalism evolves, so do the school's classes.
"We're in the midst of an information revolution," says Sue Robinson, professor in the School of Journalism and Mass Communication. "And professors need to be aware of – and teach to – these new dynamics that are developing around news and information exchange."
Twitter hashtags are phrases preceded by the symbol # that groups together tweets with common themes. Twitter users can read all of the messages tagged with a common hashtag. For example, #UWSocial is used by campus social media communicators.
Today all SJMC students must set up Twitter accounts with their first required class J202, if they don't have them already. Throughout the rest of the curriculum, they are taught to crowdsource information, network with experts, build audiences and relationships, market their stories or their companies' brands, use social-media platforms in innovative ways and engage in conversations about the topics they are covering with people around the globe.
For the 22 iPad-wielding students in Robinson's class, the curriculum of  "Social Media and the News" — known on Twitter as #sman_uw — focuses on professional applications of social media, combining theory with practice.
"Twitter has brought me closer to my colleagues while introducing me to journalists," says senior Corinne Burgermeister. Between tweeting with classmates at #sman_uw and on scavenger hunts with students around the country, Burgermeister says that monitoring social networks can be overwhelming.
"The class doesn't end after 50 minutes," Burgermeister says. "You feel the pressure to keep working and tweeting."
Robinson started using blogs in classes in 2007 and now trains future journalists to use the latest digital tools. Her class this semester is exploring the differences between personal and professional use of social media while applying the fundamentals of journalism. Students have strict guidelines for how to tweet and blog while using Tumblr, Pinterest and other social media to produce content online.
While journalism courses lead the way in harnessing Twitter, other departments and programs embrace the social media platform as a powerful resource.
In a course on justice and equality in multicultural America, #Wire275, students tweet each other their reactions while watching episodes of "The Wire." Meanwhile, anthropology professor John Hawks displays #UW105 tweets in the corner of the screen of his 250-person lectures and answers questions as students tweet them.
While Robinson and her students keep up with the latest digital trends, she predicts that more classes will incorporate Twitter into their classes and assignments.
"People are communicating, exchanging information and networking in new ways," Robinson says. "We have to incorporate those evolving communicative patterns into our teaching so our students can go out, be effective professional communicators, do good work and be good citizens."
—Alex Kowalsky
You can explore the various courses using Twitter hashtags yourself. On www.twitter.com, search #sman_uw, #J201, #J202, #J335, #J401, #J345sec2.