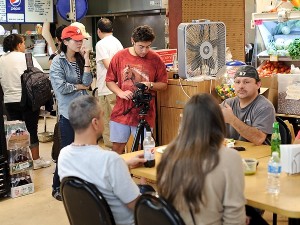 For many graduating journalism school students, the job hunt begins by networking with reporters or ad executives and searching reporting or strategic communication keywords.
But through an innovative new course, Young Mie Kim, assistant professor in the UW-Madison School of Journalism and Mass Communication, has opened students' eyes to a new sector of the job market: nonprofit work.
By harnessing the power of digital media through innovative course work, Kim has given students the opportunity to apply theory to real world experience. Their project, Savor South Madison, has worked to build a stronger community in one of Madison's most diverse and culturally rich areas.
When dreaming up the course, Kim wanted to apply her theories about technology's positive impact on society in a real-world setting. She noticed local news media had fostered a misconception about the south Madison community as a dangerous place to be.
"South Madison has a lot of misperceptions, and the community had some issues they wanted to deal with," Kim says.
She partnered with the South Metropolitan Planning Council to begin a four-phase project to give students an opportunity to highlight the positive aspects of community — namely, the wide array of unique food.
Students created a website, Savor South Madison, to showcase the variety of ethnic food-related markets, restaurants, organizations and community events available.
But they didn't stop there. Interactive videos, virtual tours and recipe databases offer an immersive Web experience for users. The website links to social media accounts — Twitter, Facebook, Youtube and Pinterest — to give website visitors endless avenues to connect and learn about the South Madison food community.
Senior Scott Mendlinger says it was the ability to move outside the classroom that first attracted him to the course.
"A service learning class offers something that no other class can offer," he says. "I can sit and take notes and listen to someone lecture to me for hours on end and learn real facts, but when you're in the field, you learn something more than just bullet points and Power Point slides."
The unique combination of research teaching and public service gave job-hunting students like Mendlinger a myriad of practical skills. He says the course was an eye-opener for working life.
"The class makes you realize what an actual job is like," Mendlinger says. "Talking with clients and meeting with the people of south Madison was such a real learning experience."
The course, Journalism 670: Technology for Social Change, will be taught in both fall and spring semesters next year. As it has grown from a special topics course to a permanent one, a wider array of future projects may be possible.
Next year, Kim will continue to expand on Savor South Madison to ensure the community project can be completed for when South Madison residents are confident in taking over leadership. The course has become so popular that Kim has been approached by other area nonprofit organizations and the City of Madison to coordinate future technological and service learning campaigns.
Yet aside from gaining real-world experience in cutting edge technologies and communication tools, Kim wants to give students an opportunity to feel the gratifying effects of giving back through the nonprofit sector.
"By working with those people, it is such a reward for your lifetime," she says. "Together, we can contribute to this community and the whole [Madison] area."
— Emily Connor