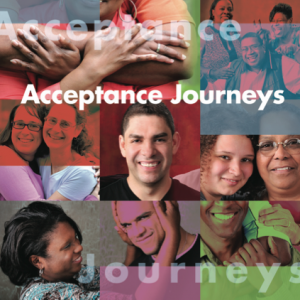 Up 144 percent.
That was the shockingly high statistic for HIV transmission cases reported by black gay and bisexual men in Milwaukee from 2001 to 2008. It was a figure that had tripled in less than a decade.
This gut-wrenching statistic was, in part, what prompted UW-Madison School of Journalism and Mass Communication Assistant Professor Shawnika Hull to create Acceptance Journeys, a campaign to eliminate homophobia among the black population in Milwaukee and, in the process, save countless lives by decreasing HIV transmission.
"I do highly theoretical work, but I wanted to do work that was impacting people's lives in the short term," Hull says of coming to Wisconsin. After receiving a generous grant from the MAC AIDS Fund, Hull launched Acceptance Journeys in 2010, embarking on an indefinite campaign to reduce homophobia and HIV transmission in Milwaukee's black community. This spring, she received an Ira and Ineva Reilly Baldwin Wisconsin Idea Endowment grant to continue her work in this area.
Through the project, Hull is chipping away at difficult social stigmas and tackling a growing health problem. While the work of Acceptance Journeys is rooted in theory, many health milestones along the way mark the pathway to an understanding future for young gay and bisexual black men.
"We believe by doing that if people are less homophobic, young men won't be placed in risky situations as often," she says. "This comes out of some research that homophobia really drives HIV risk for young men."
The project uses an innovative practice—looking at social determinants of health and not simply individual choices. Hull says it's one aspect of the project that she has found particularly appealing.
Twice a year, Hull works with community focus groups to create and launch campaign messages. Through geographic targeting, ads are placed on billboards and buses throughout predominately black neighborhoods in Milwaukee. Radio ads and television appearances deliver Acceptance Journeys messages, and United Way of Greater Milwaukee distributes campaign materials.
Interpersonal communication is also a foundation of the campaign. At important events for the black community, like Juneteenth, a celebration of the end of slavery, Acceptance Journeys representatives share story cards with individuals to promote the campaign's messages. Many of the faces highlighted in the campaign also appear to share their personal journeys.
Yet arduous public health campaigns come with many challenges. Hull says finding adequate funding and grant writing are always a difficult process. While Acceptance Journeys has funding for five years, she is hopeful a recently submitted grant proposal and other future proposals can keep the project going for much longer.
"A project like this takes a long time to work; it's going to take years," Hull says. "It's slow and has to work its way through networks in the community, but we will keep going back to get additional funding as long as possible to sustain it."
Hull says it's the tangible ways the campaign has touched people's lives that has made a difference. Almost every time she gives a presentation, Hull receives comments and compliments from everyday people who have seen an ad or know an Acceptance Journeys story.
"I like the possibility of saving peoples lives in the short term—using my expertise in a way to change someone's situation," Hull says. "It's what I got in the business to do."
— Emily Connor